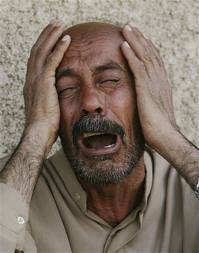 Iraq bomb attacks leave at least 34 dead
At least 34 people have been killed and dozens injured following two bomb blasts in and around Iraq's capital Baghdad.
The first attack came when a suicide bomber drove a Humvee at a checkpoint south of Baghdad killing at least 24, Iraqi officials said.
The second attack, a car bombing inside the capital, killed at least 10 people, officials say.
Hundreds have been killed in bomb attacks across Iraq in recent months.
The checkpoint where the first explosion occurred was near the town of Jurf al-Sakhar, around 50 km (30 miles) south of Baghdad.
The blast targeted Iraqi security forces and Shia militiamen who were manning the checkpoint. The Humvee used in the attack is likely to have been captured from government forces, reports say.
Egypt declares curfew in North Sinai after 33 soldiers killed
By 
 |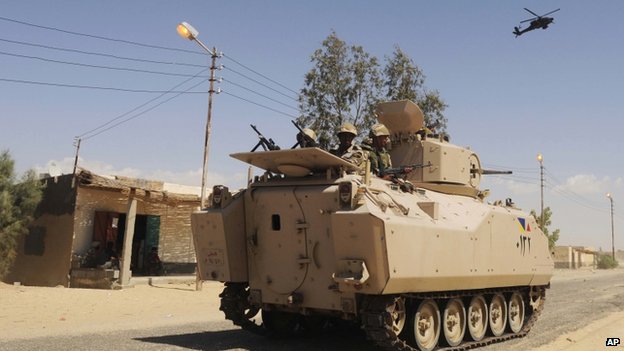 Egypt's President Abdel Fattah Al-Sisi has declared a state of emergency in the North Sinai hours after at least 33 soldiers were killed and 30 injured in two separate attacks.
The state of emergency will last three months and include a curfew between 5PM and 7AM.
According to state media, at least 30 soldiers were killed and 30 injured after a suicide bomber rammed a vehicle packed with explosives into a military checkpoint, killing the soldiers, primarily in their twenties, that had been stationed at the Karm Al-Qawadees checkpoint.
Hours later, three security officials were killed when militants opened fire on at a security checkpoint near Al-Arish.
Chaos continues in Libya as 21 killed in tribal clashes
BY PRESSTV.COM | LAST UPDATED: OCT 27, 2014 – 12:40:43 PM

At least 21 people have been killed and many others wounded after tribal clashes broke out in the western region of Libya's capital city, Tripoli.
The clashes erupted on Oct. 12 between militias from Zintan and Kekla towns.
The clashes began when militiamen from the Zintan, located southwest of the capital, attacked the town of Kekla, which supports their rival Fajr Libya (Libya Dawn) armed group.
According to local hospital sources, more than 60 people were also wounded in the clashes.
The deadly clashes come a day after United Nations Secretary General Ban Ki-moon made a surprise visit to the North African nation, calling for an end to the violence in the country.
On Oct. 10, the United Nations Refugee Agency said tribal fighting over the past three weeks has displaced nearly 100,000 Libyans, adding that 287,000 people were currently displaced throughout the country.
Libya plunged into chaos following the 2011 uprising that toppled the longtime ruler, Muammar Gadhafi. The ouster of Gadhafi gave rise to a patchwork of heavily-armed militants and deep political divisions.
More here. (Iranian agitprop site)
Several lawyers and officials have been killed after Taliban militants stormed an Afghanistan court.
Source:AAP
28 OCT 2014 – 5:37 AM
  UPDATED 16 HOURS AGO
Taliban militants have stormed a court in northern Afghanistan, killing at least seven people including prosecutors as they shot them in their offices at close range.
The raid on Monday was mounted in Kunduz, a city which the insurgents have encircled in recent weeks and attempted to storm, so far without success.
Four attackers wearing army uniforms attacked the provincial appeals court, triggering a four-hour gun battle with Afghan security forces, provincial police spokesman Sayed Sarwar Hussaini told AFP.
"They first blew up an explosives-laden car at the gate of the court and then entered the building," he said.
"The attackers killed six court officials and one police. Eight people were wounded," he said, adding that the militants were also killed.
Ten civilians killed as Yemeni Houthis advance into Qaeda stronghold

SANAA Sun Oct 26, 2014 4:24pm EDT
(Reuters) – Shi'ite Muslim Houthi fighters backed by government fire thrust into strongholds of al Qaeda and its Sunni tribal allies in the center of Yemen on Sunday, killing around 10 civilians, local tribesmen said.
They said the Yemeni army pounded local tribes and fighters of al Qaeda's local wing, Ansar al-Sharia, with air strikes, artillery and Katuysha rockets in al-Baydah province, about 160 km (100 miles) southeast of the capital Sanaa.
"Around 10 civilians were killed and a number were injured, including women and children," one tribal source said. "But because it is dark and due to the continuing clashes, we were unable to retrieve all the victims," he told Reuters, adding that dozens of families had fled the fighting.
One killed, 8 injured as S. Sudanese refugees clash in Kenya

TUESDAY 28 OCTOBER 2014
October 27, 2014 (NAIROBI) – At least one person was reportedly killed and more than eight other seriously injured when South Sudanese rival communities clashed on Sunday at Kakuma refugee in western Kenya.
South Sudanese refugees at Kakuma refugee camp in Kenya, February 17, 2014 (ST)
Sources said the clashes between Nuer and Dinka communities, the largest and belligerent ethnic groups in South Sudan, occurred when a 9-year old Nuer girl-child was allegedly raped by a Dinka man, leaving her in critical condition.
"The clashes happened on Sunday evening when a Dinka adult raped a 9-year old girl-child, ripping her genitals and leaving her in coma," Gai Dup Wur, one of the Nuer community leaders told Sudan Tribune.
He said the child was rushed to the medical center in critical condition while her father initially calmed down the situation, asking the Nuer youth not to take the law into their own hands as the police arrested the criminal.
Wur, however, said the community was surprised when Kenyan police authorities set free the accused on Sunday evening.
A complaint, he said, was then launched to the Kenyan police by the community leaders to re-arrest the criminal, but the police officer on duty tore the complaint paper, stirring anger among the Nuer youth who went to forcefully capture the freed Dinka man.
UK doctor 'deliberately killed' in Syria jail
Syrian authorities say Abbas Khan killed himself, but London inquest says he was 'unlawfully killed' by Syrian regime.
Last updated:

28 Oct 2014 09:40
Abbas Khan, the British doctor who died in a Syrian jail last year, was unlawfully killed, an inquest jury in London has ruled.
Syrian authorities claimed that Khan, who was arrested last year after travelling to Aleppo to treat wounded civilians, killed himself and was found hanging in a prison cell in the capital, Damascus, on December 16.
But the jury at the Royal Courts of Justice ruled that the 32-year-old orthopaedic surgeon had been killed.
More here. (Qatar agitprop news site)