When Geert speaks, we should listen.
"Let them leave," says Wilders. "Let them leave, or detain them. I find it incomprehensible that Western governments stop people who want to leave to fight for jihad in Syria or Iraq." Let them go and never let them return, Wilders says, or, with sufficient evidence, detain them. While the West combats the Islamic State, he points out, "nothing is being done to make our own countries safe."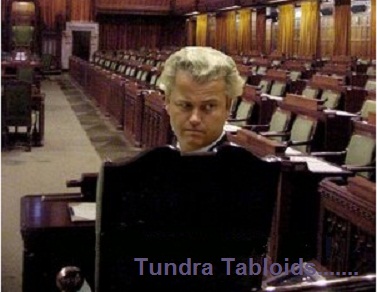 In this age of Leftist influenced mediocrity and self hatred, I expect nothing less than utter contempt by the ruling elite for the people they've sworn to uphold and defend.
GEERT WILDERS: 'NOTHING IS BEING DONE TO MAKE OUR OWN COUNTRIES SAFE'
I am sitting with Geert Wilders, leader of the Netherlands' Party for Freedom, and the news has just flashed that Michael Zehaf-Bibeau, the Canadian convert to Islam who terrorized Ottawa on Wednesday, had previously had his passport lifted by the Canadian government as an officially designated "high-risk traveller."
That means that before Zehaf-Bibeau put a bullet through the heart of Cpl. Nathan Cirillo, a young reservist standing guard with an unloaded rifle at the Canadian war memorial, and before Zehaf-Bibeau rushed into parliament where, thankfully, he was gunned down by security before he could murder again, Canadian authorities had already identified him as someone likely to join the jihad in the Middle East. In fact, so likely was Zehaf-Bibeau to join a jihadist group such as ISIS that Canada did what many Western governments are now doing in the name of counter-terrorism: they took Zehaf-Bibeau's passport away.
"That's the same as the other one!" Wilders notes energetically, referring to Martin Couture-Rouleau, also an Islamic convert and "high-risk traveller," who drove his car into two Canadian soldiers in Quebec earlier in the week, killing Warrant Officer Patrice Vincent. Couture-Rouleau, who was shot dead at the scene of his crime, had had his passport taken from him in July when he was arrested at the airport before he could travel to Turkey.
In other words, but for good Canadian police work, it looks as if both of these Islam-inspired murderers would have left Canada and disappeared into the bloody maw of the Islamic State. Phew — that was close?
No, that was insane. Such a policy, which the Dutch government also follows, frustrates Geert Wilders to no end.
[…]
"Listen, war has been declared on us," Wilders replied, "on Canada, by the Islamic state, by Muslim fundamentalists, (on) Europe, on the United States, on (the Netherlands), so we have to fight them as if it was a war. It is a war. I am very much in favor of civil liberties, but I believe that in a time of war, we should have one, first priority – and that is to protect our people – the Canadian people, the Dutch people, the American people." He mentioned the black ISIS flags that now come out on the streets in the Netherlands – which should serve as a ticket out of his country, in his view — and concluded: "If you have the intention to rob our society of our rule of law, them you don't deserve the rights that come with that rule of law."
The TV interview moved on. Wilders, however, had just raised a profoundly important point about the subversive nature of Islam, which, like Communism, is driven by ideological imperatives that cannot exist within the bounds of the rule of law as set by US Constitution. I wished I had thought to ask him to speak some more about that.
Next time.