Really, what is one to think about a state (like Sweden) that imports millions of intolerant sharia compliant Muslims, and celebrate hedonism at the same time. It's the cognitive dissonance that I keep referring to, and on public display, on a daily basis.
NOTE: Actually the headline should read: In Images: When Islam finally takes over hedonist France, will the Lefties weep or bow?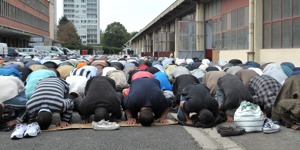 IN IMAGES: When art and sex collide in France
Here's what it looks like when art and sex collide in France. Photo: AFP/German4/Quentin Evrard
Published: 23 Oct 2014 17:56 GMT+02:00
The headlines in France at the weekend were dominated not by the economy or the threat of terrorism but by the story that vandals had pulled down an art installation in Place Vendôme, because it looked like a giant sex toy – a "butt plug" to be precise.
The hullabaloo around the sex toy/Christmas tree controversy felt like a classic #OnlyinFrance moment where art and sex regularly combine to contentious effect.
* Fjordman coined that phrase, Dildo sharia, to capture in essence the ideology of Swedish feminists: . I finally came up with a suggestion for the ideology: Dildo Sharia. To radical Feminists of the political Left, freedom seems to be a vibrator with a burka.