Some could wish that in a just world, if disaster struck because of insane policies, only those insisting on them would be affected.
But we know that would never be the case, terrorism affects all of us. I fear such fact-resistant, lunatic policies will one day come back to haunt us all, and those of us in the Counterjihad who warn society on a daily basis, take no pride or joy in saying afterwards, "I told you so".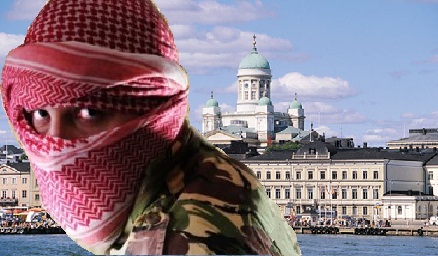 NOTE: The only answer to anyone leaving for Syria and Iraq to team up with either al-Qaida or the Islamic State, is to strip them of their Finnish citizenship, whether they have dual citizenship or not.
Finland looking to develop re-integration programme for Syria war returnees
Finland's Interior Ministry is pondering the best options for re-integrating Finns returning from war zones in Syria. Ministry officials say that while a prototype already exists in Helsinki, they want to select the best possible team to lead a so-called exit programme for war returnees.
Nordic states are currently caught up in an intense debate over what to do about nationals returning from conflict zones in Syria and how best to prevent the radicalisation of citizens. Finnish officials have been making the rounds of Europe looking for ideas on how to cut off the trend.
"It's understandable that there are those who believe that there's a silver bullet solution for this. But if this were easy we would have found that solution already," said Tarja Mankkinen, head of the Interior Ministry's internal security unit.
Ministry officials have publicly pondered strategies such as eliminating dual citizenship as a means of ending war tourism. Mankkinen said however that the Ministry has also been turning over the idea of an exit programme for returnees for some time. The program would provide avenues for people to end their involvement in subversive activities.
"Every country has come to the conclusion that some individuals must have committed crimes in Syria and they must be held to account for them. But then there are others who haven't engaged in criminal activity."
"They must be provided with ways to return to normal life so that they don't become radicalised," Mankkinen added.
Terrorist label not always appropriate
The role of police in the exit programme would be to screen conflict returnees to determine which of them pose a danger to society. However the others shouldn't be left alone to deal with their experiences, ministry officials believe.
"Some of them are themselves still children. Others may even have mental health problems. For the good of society it would be rational at this stage to focus attention on them rather than wait for problems to blow up," Mankkinen pointed out.
Officials believe that if individuals are treated like hardened criminals, there's a danger that it will become a self-fulfilling prophecy. This view has been reinforced by terrorism researchers, Mankkinen noted.
"There must be ways to approach young people so that they aren't immediately labeled as terrorists. We should look at the Danish model and figure out what their actual problems are and find solutions for them," she added.
"This is not about fussing over jihadists. If they are guilty of having committed crimes, they will be treated like all other offenders," the ministry official said.
Finnish adaptation of Danish model
According Mankkinen an adaptation of a Danish exit programme is already operational in Finland. It comprises a small team known as "Anchor" (Ankkuri), which has been based at the Pasila police station for about two years.
The team brings together social workers, youth workers, psychiatric nurses and police to prevent young people from crossing over from risk groups into a cycle of criminal activity. Similar operations also exist in Oulu and Kanta-Häme.
The team's new target group will include persons returning from Syria or those possibly planning to travel there.
"We are trying to map out these individuals' situation: what they might have seen, whether or not they may be traumatised, whether or not they may be in need of health care. Then we will react accordingly," said Inspector Jarmo Heinonen, head of the Helsinki Anchor team.
"Everyone can imagine the kinds of atrocities they might have seen in the conflict area; perhaps they even have engaged in fighting themselves, so their problems won't be easily resolved by one set of officials. And perhaps what kinds of services from a third sector (apart from public and private) would be needed to help these people on their journey to rejoin society," Heinonen explained.
Teachers must be on the alert
The Anchor model is now expanding to other parts of the country. Police say they want to be ready to act on the issue of radicalisation.
"Our goal is to have some form of exit programme. At the moment we are considering which would be the best player to organise this kind of activity and what kind of target group we should focus on," Mankkinen noted.
Meanwhile Interior Ministry officials are calling on local governments to keep their eyes wide open. They want individuals like teachers, child welfare workers and mental health care givers to be on the alert for signs of radicalisation among young people.
"Child welfare legislation gives child welfare officials very broad powers to intervene in certain situations. And these powers should be used. The police alone can't solve these problems," Mankkinen added.
She said that teachers should take up the matter in their classes if they see that their students are unduly interested in extremism.
"We have information of cases where small groups at upper secondary schools have exhibited behavioral changes, perhaps in the way they dress and even expressing extremist views. Schools should be prepared to talk about this. There should be no taboos," Mankkinen declared.