Stupid is as stupid does no matter how often we warn.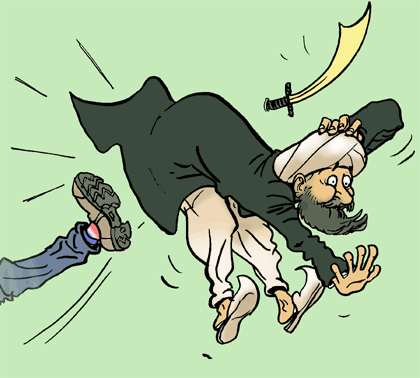 British tourist on holiday in Tunisia told local man to 'come and stay if he was ever in Wales' – a month later he turned up, refused to leave and 'ate her out of house and home'
Nebil Jouini met 67-year-old woman while she was on holiday in Tunisia
The Briton told him he should contact her if he was ever visiting Cardiff
Weeks later he called asking if he could go and stay with her 
She agreed – but soon realised he was going through her belongings 
Said that while staying there he 'ate her out of house and home' 
Jouini, 28, also used her credit card to book a holiday in his own name  
He was jailed for nine months after pleading guilty to theft and fraud
But he won't be deported when he is released because he has a British wife
A Tunisian man stole from a British woman and 'ate her out of house and home' after he took up her casual offer to stay with her if he ever visited Wales.
Nebil Jouini, 28, stole from the 67-year-old 'decent and generously minded' woman after going to stay at her Cardiff home.
The pair met at a hotel in Tunisia when the woman was on holiday, and she invited him to stay if he was ever visiting Wales.
But Cardiff Crown Court heard that after taking up the offer, Jouini 'preyed' on the victim's good nature and stole from her.
Yesterday he was jailed for nine months after admitting fraud and theft offences – however, he will be allowed to stay in Britain after he is released from prison.
The court was told that the woman regularly went to Tunisia on holiday and met Jouini during a visit in September 2013.
She said that the pair became friends and at end the end of her holiday, she told him if he was ever in Cardiff, he should contact her.
Just a few weeks later, on October 13, he called her saying he was looking for work in Cardiff and asked if he could stay with her.
She said he could stay for two night, and he arrived on October 17 – but Jouini promptly asked to stay for the long term, claiming he would contribute to the cost of household bills.
The woman refused his request, but allowed him to stay for a few more days – only to discover that Jouini was going through her belongings while she went out to work every day.
She said while staying at her address he also 'ate her out of house and home'.
Prosecutor Gareth Jones said she 'wasn't happy with the excuses provided' and told him he was no longer welcome at her home.