Nah, it's just jihad, commanded by Mohamed that's to blame.
Surah 9 is one of the last entries of the koran.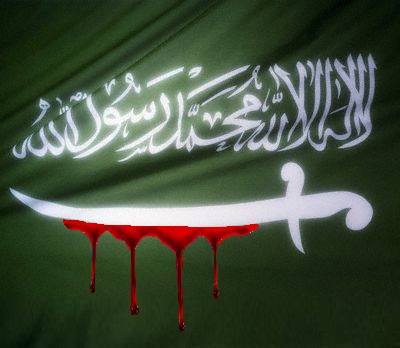 And of course they refuse to deal with the main issue at hand, Islam calls for the faithful to fight the non-believer, wherever they reside, till the end of time. When looking at the entirety of the koran, hadiths and sira, they all point to the violent nature of Islam, and its open ended call for violence against the non-Muslim till they are either converted to the mohammedan creed, subjugated as 3rd class people and paying the jizya poll tax, or dead.
Surah 9.5 And when the sacred months have passed, then kill the polytheists wherever you find them and capture them and besiege them and sit in wait for them at every place of ambush.
So they do admit that mosques are being used as staging grounds for jihad, and that by default, authorities are correct in monitoring them for subversive activity.=>
So far the community leaders haven't come up with any easy answers. They say they need help tracking down the jihadi head hunters and establishing strong links with local authorities will be an important part of how they operate.

"When we detect extremists spreading the word in our mosques, we can report them to the authorities," Farah explained.
Nordic Somali communities join forces to fight extremist recruitment
Somali organisations from across the region gathered in Finland Tuesday to establish a cooperative aimed at heading off recruitment of their youngsters to join extremist groups. The community leaders expressed concerns about the growing radicalisation of Somali youth.
Reports of Finnish youngsters being recruited to join extremist Islamist groups and leaving to fight in conflicts abroad have shocked the local Somali community.
It turns out that the problem spans the Nordic countries. A few dozen young people are known to have left Finland to engage in battle abroad,  but countries like Sweden and Norway have also been troubled by youngsters egnaging in war tourism.
In an article published in September, the US news service CNN conducted a study of 25 countries where local Muslims had gone to fight in Syria. It found that Finland had the highest percentage of jihadis abroad, mainly because of its small Muslim population.
Other Nordic countries also posted similar numbers of Muslims traveling overseas to fight. Finland's 30+, was matched by the same number in Sweden, but was bested in Norway (40 – 50) and Denmark (100).
Finding alternatives for Somali youth
The Nordic support group established at a meeting in Espoo Tuesday aims to nip the trend in the bud by encouraging young Somalis to engage in alternative activities such as community projects. However elders say they know they're facing an uphill battle in some cases.
"In the United States for example, it's easier to integrate and feel American. But here in the Nordics you will always be just a little immigrant," said Mohamed Farah of the Swedish Somali Association.
Abdulrahman Abdi Rage of Finland's Somali Association said the groups are looking to find common ground on how to head of the problem.
"When we discuss and put our heads together we will come to some kind of understanding on how to deal with this issue. At least that's what we hope," he added.
NOTE: Notice that the meme of the failure of "integration" being the focus of the article, and not on what the jihadis themselves have said on what is motivating them, that being, Islam 101 (the basic fundamentals of Islam). Muslim youths from Finland are not travelling to Syria/Iraq due to exclusion from society, but out of a sense of duty to the calls of the koran, for jihad against the non-believer.