Depraved maniacs, but very Islamic.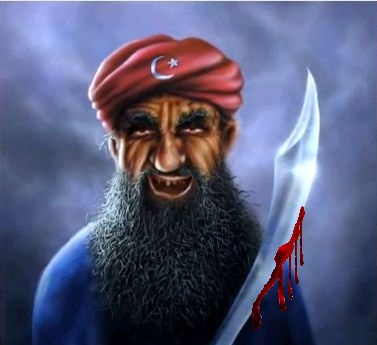 Each time I look at this picture it makes me weep.

'You can see how frightened she is. I can almost hear her scream.What kind of depraved monsters are they? What pleasure can killing this child bring anyone?'

Soldiers said Melek, a woman and an older child – thought to be her mother and sister – were witnessed being dragged out of hiding by IS around the time of an air strike.
Vile image of baby girl being 'beheaded' found by Kurds on phone taken from dead ISIS fanatics in Kobane
Sickening image shows child pinned to floor with knife held to her throat
Feared she and her family may have been beheaded for being Alevi Muslims
Group have previously been targeted by Islamic State militants in Kobane 
Other images of phones show jihadis playing football with severed heads
An horrific image has emerged of a baby girl moments from being beheaded by IS.
The picture is among several recovered by Kurdish soldiers from the mobile phones of dead fanatics in the Syrian town of Kobane.
It shows the child being pinned to the floor, in clear distress as a knife is held to her throat.
It is feared she may have been beheaded along with her family for being an Alevi Muslim, a branch of Islam whose followers have been targeted by IS.