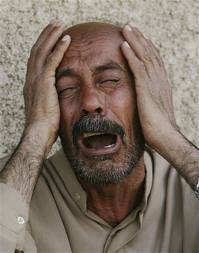 US-led strike kills 8 in IS-held Syria town
MUSITPINAR, Turkey (AP) — A U.S.-led coalition airstrike on a gas distribution facility in an eastern Syrian stronghold of the Islamic State group set off a series of secondary explosions and killed at least eight people, activists said Saturday.
The airstrike targeted a distribution station in the town of Khasham in the oil-rich province of Deir el-Zour late Friday, Deir el-Zour Free Radio, an activist collective, said on its Facebook page. The collective named four of those killed and said another four charred bodies were placed in a nearby mosque. It said the slain men were mostly fuel tanker drivers.
Another activist group, the Deir el-Zour Network, described "long tongues of flames" from the strike. The incident was also reported by the Britain-based Syrian Observatory for Human Rights, which relies on a network of activists inside Syria.
Three Egypt soldiers die in Gaza tunnel collapse
Cairo (AFP) – Two Egyptian army officers and a soldier were killed Saturday when a smuggling tunnel connecting Sinai and the Palestinian Gaza Strip collapsed as they were preparing to blow it up, officials said.
One army soldier was injured and another missing in the collapse, which happened as troops were planting explosives.
The army says it has destroyed more than 1,600 such tunnels — most of them since the ouster of president Mohamed Morsi last year — which the Palestinian Hamas militant group uses to smuggle in arms, food and money.
Cairo has poured troops into the Sinai peninsula to counter an insurgency since Morsi's overthrow that has killed scores of policemen and soldiers.
Sudan: '21 Sudan Troops Killed' – Darfur Rebels, East Jebel Marra
Rokoro — Rebel forces in Rokoro, Central Darfur, announced the killing of several government troops and pro-government militiamen during their attack on Thursday evening. On Friday, the Sudanese Air Force bombed the area in East Jebel Marra.
The military spokesman for the Sudan Liberation Movement, under command of Abdel Wahid El Nur (SLM-MM), reported that 21 government troops were killed, and a number was wounded, during the attack east of Rokoro, a rebel-held area. "We lost one of our forces, while three others were injured," Mustafa Tambur said.
He claimed that the army's attack on their positions in Rokoro was an attempt to take back the road between Central and North Darfur. "This road has been closed since 2003… Their attempt failed," Tambur told Radio Dabanga.
Yemen's rebels attack home of Islamist, 12 killed
SANAA, Yemen — Yemen's empowered Shiite rebels attacked the home of a rival Islamist politician south of the capital on Saturday, setting off clashes that left 12 people dead, security officials said, adding that the politician was not home at the time.
The officials said Shiite rebels and allied fighters attacked the home of a local politician from the rival Islamist Islah party, killing two of his relatives in the town of Yarim, an Islamist stronghold in the Ibb province south of Sanaa. The ensuing clashes left eight rebel fighters and two bystanders dead.
Iranian guards kill Pakistani soldier near border
Additional FC personnel were called in the area to avoid occurrence of another untoward incident and overall security was tightened at the porous 900km border between the two countries.— File photo
QUETTA: Iranian border guards attacked a vehicle of Frontier Corps, a para-military force, inside Pakistani territory killing one FC man and injuring three others on Friday morning.
Khan Wasey, the Spokesman FC told Dawn.com that Iranian border guards have been violating Pakistani territory since the past two days. He said the FC's vehicle was also damaged during the attack.
The injured personnel were rushed to Quetta for medical treatment.
Wasey said that Iranian border guards entered inside Pakistani territory and attacked the FC vehicle in Mand Tehsil of Balochistan's Kech district.
In another incident, Wasey said 30 Iranian border guards entered into Pakistan's town of Nokundi which borders Iran and made the residents of a nearby village hostage for six hours.
"They subjected the residents to physiological torture and then left," he said.
Bombings kill 4 security troops in Afghanistan