In preparation for Mohamed's brothel in the sky (with raisins).
Everything that they (Islamic State) do, they do in following the way of Mohamed and his "perfect" character.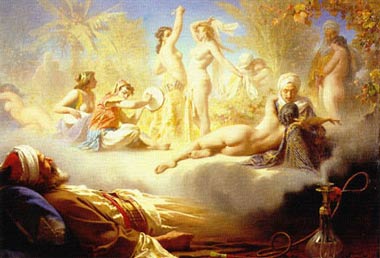 Muhammad and Islam's Sex Slaves
Raymond Ibrahim is a Shillman Fellow at the David Horowitz Freedom Center, a Judith Friedman Rosen Writing Fellow at the Middle East Forum and a CBN News contributor.
He is the author of Crucified Again: Exposing Islam's New War on Christians (2013) and The Al Qaeda Reader (2007).
Once again, Islamic State Muslims are pointing to Islam in order to justify what the civilized world counts as atrocities.
According to an October 13 report in the Telegraph,
Islamic State jihadists have given detailed theological reasons justifying why they have taken thousands of women from the Iraqi Yazidi minority and sold them into sex slavery.

A new article in the Islamic State English-language online magazine Dabiq not only admits the practice but justifies it according to the theological rulings of early Islam.

"After capture, the Yazidi women and children were then divided according to the Sharia amongst the fighters of the Islamic State who participated," the article says.
As for "theological reasons" for sex slavery "according to the Sharia," these are legion—from male Muslim clerics, to female Muslim activists.  Generally they need do no more than cite the clear words of Koran 4:3, which permit Muslims to copulate with female captives of war, or ma malakat aymanukum, "what"—not whom—"your right hands possess."
The article continues:
But most of it [Islamic State "article" or fatwa] is devoted to theological justifications for Islamic State behaviour, citing early clerics and the practices of the Prophet Mohammed and his Companions during the early years of Islamic expansion.
Indeed, while many are now aware of the Koran's and by extension Sharia's justification for slaves, sexual or otherwise, fewer are willing to embrace the fact that the prophet of Islam himself kept and copulated with concubines conquered during the jihad.