The not only have the schools in common, they also have fidelity to Mohamed as well.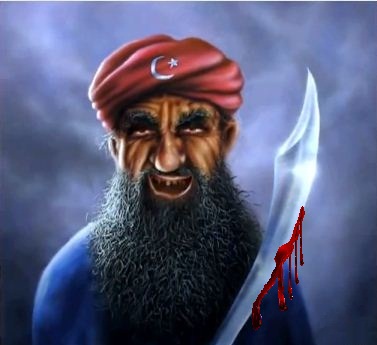 Eh, the Nawal Msaad  being tricked into smuggling cash to terrorists by hiding the banknotes in her knickers story, doesn't wash with me. Just because she wears short skirts and pumps, doesn't mean that she isn't in on the jihad. They simply didn't have enough evidence on her.
School of Jihadis: Why have six former pupils of the 'Eton of State Schools' been linked to terror?

It is the London school where 96 percent of students sitting their GCSEs achieve five or more A to C grades, with five winning places at Oxbridge. Yet six former pupils have been linked to terror. Amal el-Wahabi, left, wanted to send cash to terrorists in the Middle East by tricking Nawal Msaad, right, to carry the banknotes in her knickers. Mohamed el-Araj, top left centre, was killed in Syria. Mohammed Nasser, top right centre, was also killed fighting for ISIS. Hamah Parvez, bottom left, centre, is still thought to be alive, while Nassim Terreri, bottom centre right, was also killed in Syria.
Holland Park School is in one of London's richest catchment areas
More than 90 per cent of pupils achieve at least 5 grade A-Cs at GCSE  
Three of the six former pupils have been killed fighting for jihadis in Syria
One of them was convicted of trying to smuggle cash to fund terrorism
A fifth is still thought to be in Syria fighting for one of the jihadist groups
The sixth was tricked into carrying cash for terrorists in her knickers  
Holland Park School, in the heart of the Royal Borough of Kensington and Chelsea — a catchment area that includes some of the wealthiest addresses in the capital — is known as 'the Eton of comprehensives'.
Indeed, the building itself resembles a plush hotel or advertising agency with minimalist sofas and bespoke chairs for both teachers and pupils, created by one of Britain's leading furniture designers, not to mention a sweeping glass atrium, stylish walkways, a roof terrace with panoramic views over the city and a swimming pool in the basement.
Even before the Grand Designs-style refurbishment two years ago (funded by selling part of the campus to housing developers), it was regarded as one of the top state schools in the country.
'Outstanding' was the verdict of a 2011 Ofsted report that praised the 'exceptional' leadership of inspirational and dynamic headmaster Colin Hall, who was appointed in 2001.
Currently, 96 per cent of students sitting GCSEs achieve five or more A* to C grades. Five have won places at Oxbridge in the past two academic years.
Bear this in mind when you consider the next 'statistic'. In the same two-year period, up to six former Holland Park pupils left Britain to became Islamic jihadists in the Middle East or were linked to Islamic terrorism.
Today, following a Mail investigation, many of these individuals — the youngest is 21, the oldest 27 — can be identified. Three of them are now dead.
One appeared on a video in the summer appealing for more recruits from the UK to join Islamic State's 'golden era of jihad'. He is still in the Middle East, where Islamic State (IS) is engaged in a bloody and barbaric struggle to establish a caliphate, or Islamic empire, ruled by Sharia law. A second died in battle after joining up with IS in Syria. A third was killed while waging 'holy war' for an Al Qaeda-linked group in Syria. The fourth on our list also died in the Syrian conflict.