A Turkish power play to weaken the Kurds ahead of any final status peace talks with Ankara.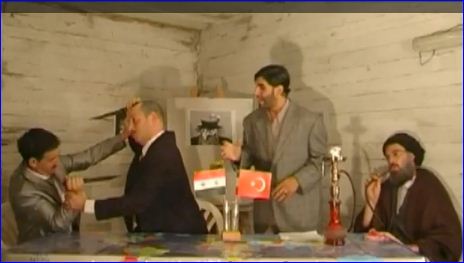 H/T: Prof.Steven Plaut
Why Turkey Won't Help The Kurds Under ISIS Siege Right Next To Them
SONER CAGAPTAY, THE WASHINGTON INSTITUTE FOR NEAR EAST POLICY
OCT. 9, 2014, 6:36 AM
Murad Sezer/ReutersSyrian Kurdish men try to get water which is distributed by Turkish Red Crescent as they wait behind the border fences to cross into Turkey near the southeastern town of Suruc in Sanliurfa province September 27, 2014.
In the past week, the Islamic State of Iraq and al-Sham (ISIS) launched another major offensive against the Kurdish-declared canton of Kobane (a.k.a. Ain al-Arab) in northern Syria. The group is now threatening to overrun this area, which is controlled by the Democratic Union Party (PYD), a Syrian Kurdish faction affiliated with the Kurdistan Workers Party (PKK), a militant Turkish group. In response, the United States has launched airstrikes against ISIS military assets around Kobane. Yet Turkey, which nominally joined the U.S.-led coalition against the group on September 5, has been watching the battle from the sidelines. Ankara is also refusing to allow PKK members to cross into Syria to prevent Kobane's fall.
In July 2012, the PKK and PYD assumed joint control of the Kurdish regions of northern Syria — Afrin, Kobane, and Jazirah — declaring them as cantons. Flanked by ISIS on three sides and bordering Turkey to the north, Kobane is the most vulnerable of these regions, and forces from the self-styled "Islamic State" have been pressing to capture it for over a year. ISIS has bolstered its efforts in recent days, hoping to offset its recent losses in Iraq with a potential victory in northern Syria.
Yet Turkey has been conspicuously absent from the battle for Kobane and is shying away from confronting ISIS at the moment. This is because Turkey's Syria policy has one key objective that takes priority over others: ousting the Assad regime. To this end, Ankara wants to use the battle for Kobane to make the PKK/PYD recognize that they need Turkey to survive in Syria, thus folding the Kurds under its strategic vision for Syria's future.