Just another one of those reasons, as to why I cannot take these European, neo-statists seriously. Also, the European parliamentary system that allows for coalition governments. They suck.
Being interviewed by the UK's BBC, Finnish Prime Minister (and former EU MEP lap dog hack politician) Alexander Stubb, was asked about the recent statements made by Finnish FM, Erkki Tuomioja, concerning Russia that greatly differs from his government's position,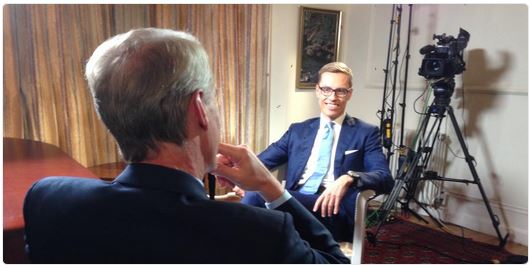 "..But the Minister of Foreign Affairs is still in his position, Sackur wondered, though the Prime Minister and Foreign Minister are in complete disagreement with this fundamental issue. Why wasn't the FM sacked?
Yle: Since we have a coalition government, I can not dismiss another party's ministers. In any case, he is a very good minister, there is no doubt about it. He just happened to have different views on this. Secondly, we felt the timing to be problematic, since a cease-fire had just started. We were wondering if we could maybe buy two or three days and see how things will be resolved. We got them a couple, three additional days, the dispute is not resolved, and then we stood behind the sanctions, Stubb clarified.
Again, this is the reason why I reject this fake conservative PM, he's always been an "EU first" kind of politician, as well as being more than willing to work with Marxists such as the fellow hack politico, Tuomioja. To be fair, Finnish consensus driven politics preceded the man, with its multi-party coalition governments, but the facts remain, both suck.