A twofer!
Jihadis killed by a female don't get their virgins! (No doubt that someone will create a fatwa to take care of it at some point)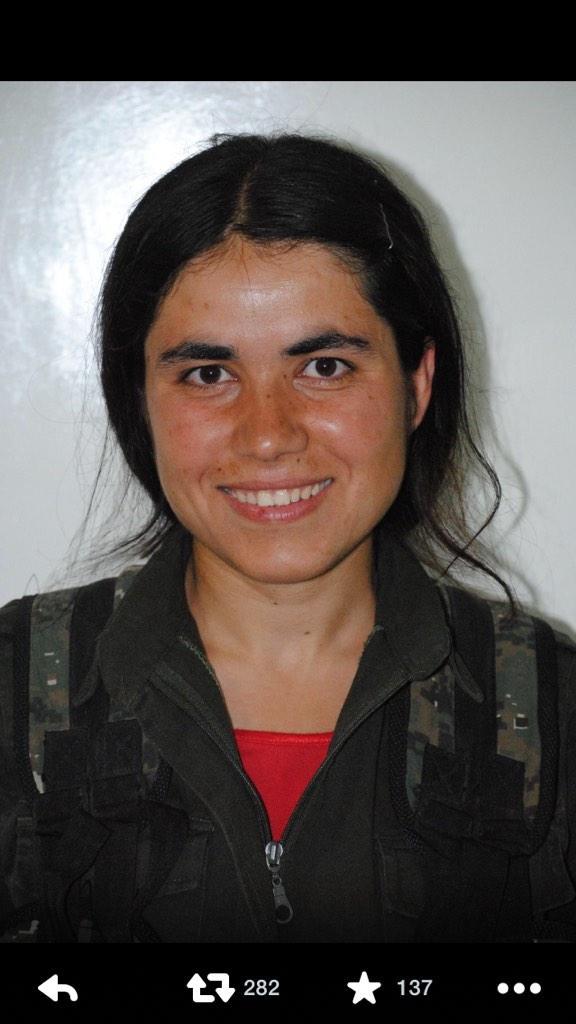 In a sign of the Kurdish defenders' mounting desperation, a female suicide bomber blew herself up at an IS position east of Kobane on Sunday, the Observatory said.

'Example' if necessary

It was the first reported instance of a female Kurdish fighter employing a tactic often used by the jihadists, said the Britain-based watchdog, which has a wide network of sources inside Syria.

The bomber, in her 20s, was a full-time fighter with the People's Protection Units (YPG), a Syrian Kurdish rebel group, which — like its ally in Turkey the outlawed Kurdistan Workers Party — has a large number of women under arms.

The group identified her as Dilar Gencxemis, alias Arin Mirkan, from the Kurdish-controlled town of Afrin in northwestern Syria.
Islamic State fighters take 3 districts in Kobane
Kobane is a strategic city near the Turkish border; violent combat taking place in the streets
Islamic State fighters late Monday seized control of three districts in the strategic Syrian city of Kobane near the Turkish border, the Syrian Observatory for Human Rights said.
"They have taken the industrial zone, Maqtala al-Jadida and Kani Arabane in eastern Kobane after violent combat with Kurdish People's Protection Units (YPG) fighters" who had far fewer men and arms, it said.
Aris Messinis (AFP)
"Urban guerrilla warfare has started and the fighting is taking place for the first time in districts at the eastern entrance to Kobane, in Maqtala al-Jadida and Kani Arabane," Syrian Observatory for Human Rights head Rami Abdel Rahman reported earlier.
"The jihadists and the Kurds are clashing in the streets, between apartment buildings," sending hundreds of civilians into flight towards the Turkish border, he told AFP.
An AFP photographer reported from the Turkish border that two black IS flags were seen flying on Kobane's eastern side earlier on Monday.
Idris Nahsen, the deputy foreign minister of Kobane region, told AFP by telephone he could not confirm if IS jihadists were inside the town.
A Syrian Kurdish official inside Kobane said the town had come under heavy bombardment by the jihadists and there had been fierce clashes as the Kurdish fighters fought off an assault earlier in the day.