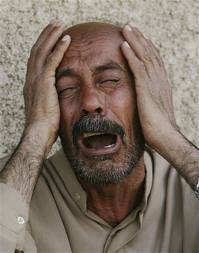 Anti-Islamist politician killed in eastern Libya
CAIRO (AP) — A security official says gunmen in an eastern Libyan city have killed a local politician who was a prominent opponent of Islamic militants controlling the city.
Rival radical groups have vied for control of Derna in Libya's oil-rich eastern region. Officials there say a number of hardened Libyan militants have recently patrolled the city flexing military power. Some have returned from fighting in Syria and Iraq.
Teenager killed in Egypt while defending women from sexual harassment
Ahmed Fayed, 17, was stabbed to death on Sunday while attempting to rescue women from sexual harassment, reported activist group Shoft Ta7arosh ('I Saw Harassment').
According to local media reports, the young man was stabbed in the heart after intervening to stop the sexual harassment of a group of women in the town of Ra'as Al-Bar, located in the governorate of Damietta.
The body of Ahmed has been transported to a local hospital where an autopsy will be performed.
Local police have meanwhile announced that two 17-year-olds and one 18-year-old have been arrested in connection with the stabbing. Police announced that the three teenagers had confessed to the crime shortly after their arrest.
Protesters Killed In Anti-IS Turkey Clashes
As coalition jets launch airstrikes against jihadists in the Syrian town of Kobani, anti-IS protests in Turkey turn violent.
At least 12 people have been killed during pro-Kurdish demonstrations in Turkey amid claims the country was not doing enough in the fight against Islamic State jihadists.
According to reports, five people have been killed in Diyarbakir, the largest town in Turkey's majority-Kurdish southeast region.
Several other deaths were recorded in other southeastern towns, including three in Mardin, two in Siirt, one in Batman and another in Mus.
Police have also used tear gas and water cannon to disperse angry protests in Istanbul and Ankara.
2 Killed in Gunfire Over India-Pakistan Border
Indian and Pakistani troops traded heavy fire over their disputed border in Kashmir, killing at least two civilians and worsening tensions between the long-time rivals, an Indian official said Wednesday.
Police officer K. Rajendra said the bullet and mortar exchange also left 18 civilians wounded on the Indian side on Tuesday night.
"We have a very serious situation at hand right now," said Shantmanu, an Indian administrator in the area who uses one name. He said there was panic among people living close to the border.
Indian authorities have evacuated nearly 5,000 villagers in the worst-hit Samba sector to government shelters, Rajendra said.
There was no immediate information about any casualties on the Pakistani side in the latest border fire, although state-run Pakistan Television said Wednesday that seven civilians have been killed due to Indian firing in the past three days. Pakistani security officials confirmed that the two sides exchanged gunfire Tuesday night.
'Hundreds killed' as militants battle for Syria town
Kurdish militia backed by US-led air strikes fought fierce street battles on Tuesday (Oct 7) with advancing Islamic State militants whose three-week assault on key Syrian border town of Kobane has left at least 412 reported dead.
Smoke rises from the southwest of the Syrian town of Ain al-Arab, known as Kobane by the Kurds, following air strikes. (AFP/Aris Messinis)
MURSITPINAR, Turkey: Kurdish militia backed by US-led air strikes fought fierce street battles on Tuesday (Oct 7) with advancing militants whose three-week assault on a key Syrian border town has left hundreds reported dead.
The fall of Kobane to the Islamic State (IS) group would mark a major victory for the extremists, who are fighting for a long stretch of the border with Turkey for their self-proclaimed "Islamic caliphate".
At least 412 people, more than half of them militants, have been killed in and around Kobane since mid-September, the Syrian Observatory for Human Rights said. It warned that the inaccessibility of the area meant that the full toll was probably much higher.
With the fight for Kobane entering a crucial phase, the IS militants fought to extend their foothold into new areas in the south and west of the town, a day after piercing its Kurdish defences.