Swedish meatball government in spin mode.
There was no misunderstanding, the Swedes are now back pedalling from their new extremist Marxist PM's outrageous statements. I guess the suggestion of tearing up UNSC242 by unilaterally recognizing a Paleostinian entity was not such a wise move, especially from the starting gate of assuming leadership of the new Swedish government.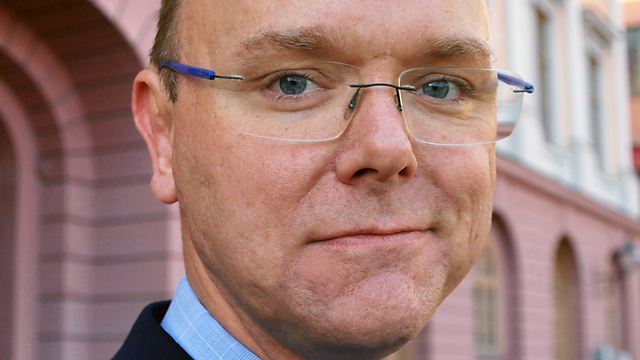 Carl Magnus, Sweden's ambassador to Israel: Oops!
Swedish ambassador: We want good relations with Israel
Ynet sat down with Carl Magnus, Sweden's ambassador to Israel, to understand why his prime minister was so eager to recognize Palestine; 'I think comments were misunderstood… we want what's best for Israel and Palestine,' says Magnus, who is even learning Hebrew.
Itamar Eichner
Published:10.05.14, 23:59 / Israel News
"Frankly, I think the Swedish prime minister's comments were misunderstood, and it's a unfair," Carl Magnus, Sweden's ambassador to Israel, told Ynet in an exclusive interview a day before he will head to Israel's Foreign Ministry to be reprimanded for comments made by Sweden's new prime minister, according to which Sweden will recognize Palestine as a state.
Earlier Sunday, the Swedish Embassy in Israel softened its position regarding the recognition of Palestinian statehood, saying it favors peace negotiation to unilateral recognition of a Palestinian state, after an initial announcement by Swedish Prime Minister Stefan Löfven led to a diplomatic crisis with Israel.
According to Magnus, "The reports in Israel ignored the true depth and complexity of the issue as well as the bigger picture, and I am glad that I have a chance to explain their full significance." Magnus added he did not want the meeting in the Foreign Ministry to be the first the Israeli public see and hear of him.
Magnus, who is taking Hebrew lessons, sat down with Ynet and said he would have hoped that his first interview with Israeli media would have been in more positive circumstances. He refused to say whether he thinks his prime minister's comments were made out of an attempt to appease Muslim voters in his native Sweden, but said the country had Israel's interests at heart.
"In his statement to parliament Friday, during the first day of his government, the prime minister announced a number of diplomatic initiatives. He covered a number of international issues, including the Syrian civil war, the fight against ISIS, and also the Palestinian issue.
"The prime minister clearly said that there will be recognition (of a Palestinian state), but he also said he supports negotiations, under the principles of international law which will lead to a two-state solution. It is in Israel and Palestine's interest," Magnus said.