How about "moronic" and "insane"?
Yes, radical Swedis politicians includes the pseudo conservatives as well, Carl Bildt, then acting FM in the (former) "Moderate Party" government, pictured here welcoming home anti-Israel activists who were on board the Mavi Marmara, the terrorist infested ship which tried to break Israel's legal anti-weapons blockade of the Hamas Islamonazis.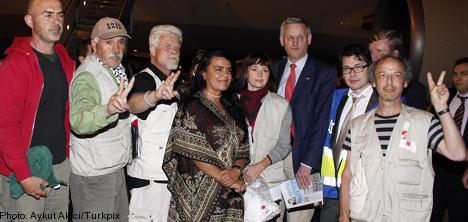 Jordan, run by the last vestiges of "European colonialism" the Hasmites, is already "Palestine" (as almost 80% of the people there will tell you), and any Muslim enclave in the ancient Jewish homeland of Judea and Samaria will be a launching pad for more terror and mayhem.
US: Sweden recognition of Palestine 'premature'
Sweden's new foreign minister Margot Wallström. Photo: TT
Published: 04 Oct 2014 06:40 GMT+02:00
Sweden's new prime minister announced Friday that the country will recognise a Palestinian state, becoming the first EU member in Western Europe to do so.
Social Democrat leader Stefan Löfven — who won last month's general election — said the Nordic country wanted to bolster a two-state solution to the Israeli-Palestinian conflict.
Washington was among those who reacted quickly to the announcement calling Stockholm's recognition "premature", while Palestinians cheered the decision as "courageous" and urged the rest of the European Union to follow suit.
"A two-state solution requires mutual recognition and the will to co-exist peacefully," Löfven said in his inaugural address to parliament.
This should take place with respect for the "legitimate demands of the Palestinians and the Israelis as regards their right to self-determination and security", he added.