The Islamo-fungus is among us.
Again, there is nothing 'extremist' about the violence and intolerance promoted by these followers of Mohamed, this is pure Islam 101, basic Islam fundamentalism.
A TT translation via HS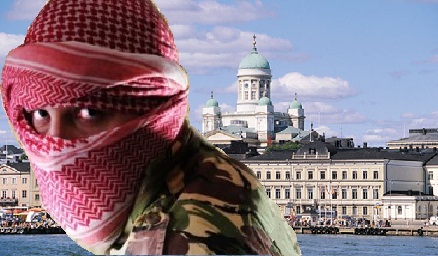 Extremist Islam fomented in Finland
Finns leaving for Syria at least have not yet been systematically recruited to the jihad, or holy war. This is the kind of image you get when you have when you discuss it with related parties of those who left. That is also the opinion of the protection of the state Security Police.
According to the Security Police in Finland, however, there are people with links to terrorist organizations or to the leaders of these organizations. "The persons  of risk " are around a couple of hundred. Some of them are in favor of terrorism, so that it is displayed in their behavior, but there are also family members who only keep in touch with relatives.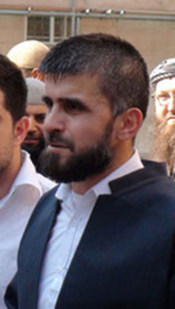 Turku resident Awat Hama Salih (pictured) on a daily basis to shares online material that supports the violent Islamist extremists, such as ISIS, activities. It is mostly in Kurdish and directed to Kurds in different countries. Hamasalih is Kurdish himself.
A little over 30-years-old, Hamasalih also uses the name of Awat Karkuky or "Hope of Kirkuk". He has a number of Facebook profiles. Sometimes one of them will be closed when there are complaints of writings, but Hamasalih opens a new one. He also has a Twitter and Youtube account, as well as a number of other channels in social media.
[…]
Before Awat Hamasalih moved from the UK to Finland, he resided in Birmingham. He led a radical Islamist group called Ansar al-Islam. It was established the beginning of the 2000s, a Salafi-violent rebel group that operates in Iraq and in Syria, and that the United States considers a terrorist organization.
Ansar al-Islam was founded by Mullah Krekar, whose real name is Najmuddin Faraj Ahmad. He sits in Norway, doing a five-year prison sentence for death threats. Turku resident Hamasalih, belongs to the inner circle of 49-year-old Mr Krekar. Over recent years, he has entered into contact with other radicals. During the Krekar trial in Oslo, he met with British radical preacher Anjem Choudaryn. Choudary's speech event in Helsinki in the spring of 2013 rose to the news, because Islamic extremists have rarely presented themselves in Finland. Hamasalih was one of the speakers.
When in London this summer, leaflets of support for ISIS were distributed, by 46-year-old Choudary, he said that those distributing them were his pupils. Choudary's led  network is considered by Britain the largest and most important group of Islamic extremists, and has hundreds of followers. Choudarya is not connected to any terrorist attack, but he is considered as encouraging supporters to practice Jihad and violence.
Hamasalih has spoken at Choudary's demonstrations organized in London.
The Security Police will not comment on the activities of Awat Hamasalih who lives in Turku, Finland, as well as the actions other individuals.
Helsingin Sanomat has learned that the Immigration Service has made an expulsion decision on Hamasalih which he has appealed. The complaint is still pending.
Unlike most of the Kurds, Hamasalih does not support an independent Kurdish state. His goal is jihad, the Islamic Caliphate and Sharia.
According to a Kurdish newspaper interview two years ago, he told how the British internal security service MI5 followed him. He was interrogated every time, when he returned to Britain, and house searches at his residence.
Hamasalih and Choudary are examples of extreme Islamists, whose networks have an important role in the radicalization of young Muslims. They spread the violent ideas of the Salafi-jihadists to ​​the world, but leave to the decision to join to the listeners.
In August Hamasalih wrote on FB pages: Although in every direction they attack us, and both Muslims and infidels fighting to overthrow the Islamic state, it will only grow. According to him, Muslims must continue to "war against infidels by all means." Islam obliges us to hate all those who hate God and the Prophet, he writes.
In August Awat Hamasalih was among the first to published the link to ISIS' new recruitment video, in which Hussein of Espoo also appeared.