It's not just Christian Arabs, the entire Christian world visiting these former Christian enclaves are insulted by Muslims as well, all the while they ply for their wallets. Such as it is with Islamic supremacism.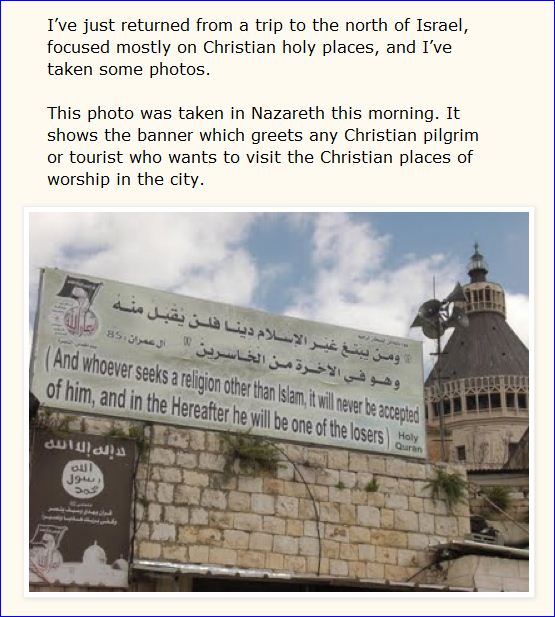 The following interview by Dr.Manfred Gerstenfeld with Justus Weiner, was recently published on Israel National News, and republished here with the author's consent.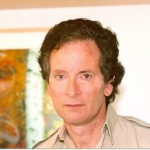 PERSECUTION OF CHRISTIANS BY MUSLIMS IN THE PALESTINIAN TERRITORIES
Manfred Gerstenfeld interviews Justus Reid Weiner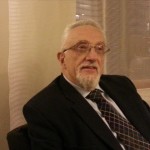 "Persecution of Christians by Muslims throughout the Middle East is severe and  has been progressively increasing in intensity. In the early twentieth century, Christians accounted for about twenty percent of the Middle East population. At present, this figure is estimated at around four percent.
"The persecution of Christians in the Palestinian territories is less severe than in a number of other Muslim countries. Yet, it is still discriminatory and sometimes fatal. However, this is hidden from the international community, partly by false statements from several Palestinian Christian leaders who are in alliance with the Palestinian Authority (PA) and Hamas."
Justus Reid Weiner is an international human rights lawyer and a member of the Israel and New York Bar Associations. He would like to express his appreciation to intern Nataniel Lelental for his contributions to this project.
"A few among many more examples of persecution and discrimination of Christians in the Palestinian territories illustrate their varied nature: In April 2013, the Christian Holy Family School in Gaza was set on fire. Several months later, in June, five Christian schools in Gaza were closed after a Hamas government order that prohibited mixed-gender schooling. Nominally, the regulation concerned all schools in Gaza, yet the five Christian schools were the only such co-ed schools there.
"The Christian minority in Gaza is tiny and consists of between one and two thousand individuals. According to the Greek Orthodox Church in Gaza, five Christians were kidnapped in July 2012 and forced to convert to Islam. In a press release, the Church stated that the police refused to intervene as Salam Salameh, a Hamas member of the Palestinian Parliament, headed the organization that was responsible for the conversion.
"In July 2012, a court in Jericho sentenced a Christian to a month of imprisonment for eating in public during Ramadan. Five other people were also arrested for the same conduct. The chairman of the PA Supreme Court for Sharia Law stated: 'We have to monitor the streets, and severely punish anyone who eats in public during Ramadan. This is the responsibility of the security forces…I call upon other non-Muslims to be considerate of Muslims' feelings.' This is in sharp contrast to Western societies, where the majority is usually called upon to be considerate of the minority.
"The Palestinian Land Law prescribes the death penalty for selling land to Jews. Various Christians have testified that it is also enforced if land is sold to Christians. Several Christian owners have been extorted to give up their land to Muslims. In practice, the legal system in the Palestinian territories provides them no recourse.
"Vera Baboun, the Christian Mayor of Bethlehem, wrote about the 2012 Christmas holiday season: 'This is the Bethlehem we also share with the world. A Bethlehem that is the natural coexistence between Christians and Muslims, an example for the rest of the region.' Yet, Baboun has been subject to a smear campaign in which she allegedly discriminates against Muslims. As a result, she and her family have been repeatedly threatened. She filed a complaint with the Palestinian Authority, which she withdrew after intimidation by Fatah's armed wing.
"Steve Khoury, Pastor of the First Baptist Church of Bethlehem, said in May 2013, that Christians are facing continuous harassment. Due to this, many of them refrain from bearing crosses in public and carrying Bibles. He added that they are often told by Muslims to 'Convert to Islam. It's the true and right religion.' Khoury's church has been fire-bombed fourteen times.
"In December 2013, Samir Qumsieh, a Christian community leader from Beit Sahour near Bethlehem provided several examples of the intimidation the Christian community faces. He showed some examples of souvenirs sold by Christians around Bethlehem's Manger Square, including t-shirts of the Church of Nativity which do not bear crosses as would be customary. On another occasion Qumsieh stated: 'We are harassed but you would not know the truth. No one says anything publicly about the Muslims. This is why Christians are running away.'
"Palestinian Authority President Mahmoud Abbas has stated: 'Christians are not a minority here. They are an integral part of the Palestinian people. Orthodox, Catholics, Armenians, Assyrians, Lutherans, Anglicans, Copts, Melkites, Protestants and others, are all part of the rich mosaic of this free, sovereign, democratic, and pluralistic Palestine we aspire to have, and as established in our Declaration of Independence and draft Constitution.' This was one of Abbas' many false statements, as Article 7 of that Constitution says: 'The principles of the Islamic Shari'a are a main source for legislation.'"
Weiner concludes: "Unless action is taken however, Palestinian statehood may well lead to the creation of another Muslim state where minorities are brutally persecuted until additional major segments of them emigrate. The treatment and fate of the Palestinian Christians is a litmus test of the true nature of Palestinian rule."