This is a war against Mohamed's barbarians.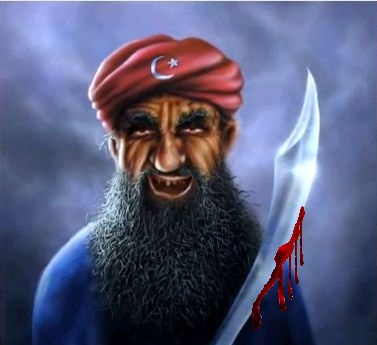 'We will slit his throat': Islamic State splinter group in Algeria releases video threatening to execute French hostage unless President Hollande stops air strikes in Iraq
Terror: French tourist, Herve Pierre Gourdel sitting between two armed jihadists at an undisclosed location. An Algerian militant group said it has kidnapped a Frenchman and threatened to execute him unless Paris halts air strikes on Islamic State jihadists in Iraq
Herve Pierre Gourdel, 55, kidnapped while hiking with Algerian friends
The group who took him have called on Hollande to stop air strikes on IS 
France mounted its first air strike to beat back the IS in Iraq on Friday 
An Algerian group linked to Islamic State jihadists threatened to kill a French hostage within 24 hours unless Paris halts air strikes on the IS in Iraq, in a video posted Monday.
Jund al-Khilifa (Soldiers of the Caliphate), which has pledged allegiance to IS, said in the video that it carried out Sunday's kidnapping of the Frenchman in a mountainous region of eastern Algeria where Al-Qaeda is active.
The hostage, Herve Pierre Gourdel, 55, white-haired and bespectacled, is shown squatting on the ground flanked by two hooded men clutching Kalashnikov assault rifles, as he asks for French President Francois Hollande to intervene.