In the Muslim Middle East, it's all touchy feely, with a sprinkling of allahu akbars.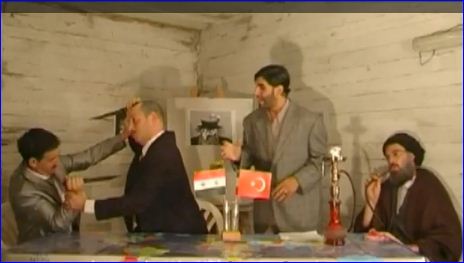 DAILY JIHAD: HEZBOLLAH LEADER MAKES POWER PLAY FOR INFLUENCE IN SYRIA
The deputy chief of Shia Islamist group Hezbollah said that his terror outfit is desperately needed in Syria to stave off the advances of the Sunni Islamic State.
Nabil Qaouk said Monday at a military ceremony in Aita Shaab that Hezbollah helped to calm sectarian tensions, which "disappointed the radical group," Lebanon's The Daily Star reported.
The Hezbollah leader said: "There could never be a war of words between ISIS and us, but there is the field where we will defeat them. We will not engage in a war of statements or political disputes." He added, "Day after day, it is becoming clear to Lebanon, the Arab, Muslim and international communities that there is a great need for Hezbollah to remain in Syria. The current situation today imposes on Hezbollah to stay in Syria more than any other time.
Qaouk said of his host-country's role in the ongoing hostilities: "This battle demands a change in national priorities," suggesting the Lebanese Army needs to be prepared for more attacks from the Islamic State and other Sunni Islamist groups such as the Al Nusra Front.