Radical nut-job Amira Hass would applaud.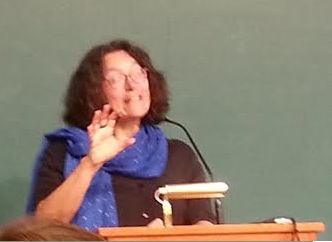 Arab Assailants in Car Stone, Chase Fleeing Hearing-Impaired Motorists; 'I Was Sure We Would Die'
Five Arab youths in northern Israel stoned and pursued a car containing two hearing-impaired Israeli couples in a terrifying high-speed chase overnight Saturday, Israel's Walla News reported.
"I still haven't gotten over the ordeal; I'm still terribly traumatized," said Dafna (name changed to protect her anonymity), one of the passengers in the vehicle, which left Lavon, a small Jewish village in the Upper Galilee at about 03:00 am Sunday morning.
Roads in the area, close to the Lebanon border, are narrow, twisting, and largely unlit. Jewish villages and kibbutsim, and Israeli Arab and Druze towns and small communities dot the hilly, rural area.
"The pursuit was crazy, they traveled at 140 miles per hour throughout the Lavon descent towards Acco [on the northern coast].
"There were moments when they also opened the doors of the vehicle to better hurl stones at us," Dafna said.
During the chase Dafna said she felt stones hitting the car.
"I was shaking throughout the ordeal, and was sure we would die," she recalled. "They signaled to us to pull over, but we were afraid to stop and tried to escape from them while driving in a dangerous zig-zag."