It's why Saudi Arabia, the birth place and caretaker of Islam, has a sword on its flag.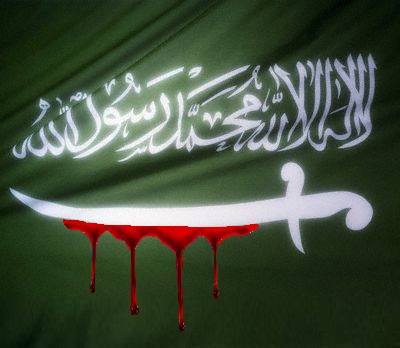 h/t: Doris Wise Montrose, Dennis Mitzner
It's Mohammed, but it's also Saddam Hussein, Bashar Assad and Gaddafi. Islam doesn't end the cycle of tyranny and oppression. It is the reason that the cycle continues. "Deradicalizing" the nice ISIS Jihadist by lying to him will fail in the long run. Telling him the truth and offering him a clear choice is the only way.
The Headchopper Next Door
Every week another lad or lass from St. Louis, Toronto or Sydney makes the trip through Turkey to the Islamic State. A reporter dispatched by a local paper to talk to the neighbors scribbles down the same recollections about how nice and normal Jihad Joe or Jihad Jane was.

Classmates remember a loud partier or a shy student. Neighbors mention that everything seemed normal until those last few years when he began wearing a robe and she began wearing a burka.
The Somali and Algerian immigrants, the German and American converts, the black burkas and dyed beards, headed into the dying summer to kill Christians and Kurds, Turkmen and Shiites, to behead babies and crucify critics, don't seem like monsters. They loved their parents. They posed for jokey snapshots on Facebook. They had dreams of becoming biologists or boxers. Until they began killing people, they seemed just like the rest of us.
And with one difference, they were.
The forensic examinations of their lives rarely reveal anything of significance. The extensive digging into the lives of the Boston bombers told us nothing about why they would plant a bomb near a little boy.
The answer lay in the topic that the media carefully avoided. As with the other Muslim terrorists, the meaning of their motives was in the little black book of their religion which commanded them to kill.
The Jihadist isn't a serial killer. While there are some converts attracted to Islam for its violence, the Muslim convert usually doesn't convert for the killing, he kills because he converted. Likewise the nice Muslim Jihadist next door might well be moderate by inclination and immoderate by faith.