Lying about the founding ideology behind the I.S.movement, Obama rejects reality and substitutes it with his own.
Sticking to his Muslim Brotherhood /CAIR talking points.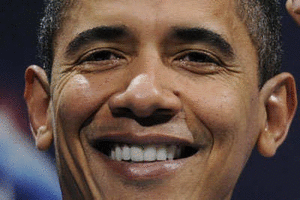 And his first words were a lie: "ISIL is not Islamic."
OBAMA DOUBLE-BOGEYS ISIS STRATEGY
On Wednesday evening, President Obama gave his long-awaited speech spelling out his carefully planned strategy to deal with the Islamic State in Iraq and Syria. The speech was brief by Obama standards – approximately fifteen minutes – and well-articulated.
Sadly, it was also deeply problematic on virtually every strategic and rhetorical level.
Obama led off his speech by stating that his own policies in drawing down American troops had somehow forwarded American security, although he couldn't explain why – and although the highest percentage of Americans now feel threatened by terror since before September 11. After dismissing the current terror threat as an inevitability – "We cannot erase every trace of evil from the world" – he then turned to ISIS.
And his first words were a lie: "ISIL is not Islamic."
This would come as a shock to the Islamic State. What are they, Buddhist? And why do so many Muslims support their goals? But Obama forged forward with his paternalistic lecture of the beautiful nature of Islam, stating, "No religion condones the killing of innocents, and the vast majority of ISIL's victims have been Muslim." Apparently, somereligion condones the killing of innocents, even if it is a minority segment of a broader religion.
After explicating the well-known evils of ISIS – their brutality, their execution of captured prisoners, their murder of children and rape of women and attempted genocide against the Yazidis – Obama talked in convincing terms about their threat to the region and the world.
Then, finally, he turned to his vaunted strategy.
"American power," he said, "can make a decisive difference, but we cannot do for Iraqis what they must do for themselves, nor can we take the place of Arab partners in securing the region." This is, as the president is so fond of saying, a false choice: American power is required to create the security preconditions on the ground necessary for stability. Obama proved that when he removed all American troops from Iraq in 2011, leading to the rise of ISIS.