This is news?
And remember, each concrete slab used is that much cement taken away from rebuilding civilian structures used by Hamas that forced Israel to target.
Senior source: Hamas rebuilding Gaza terror tunnels
Al-Qassam Brigades showing Gaza tunnel post-operation (Photo: Reuters)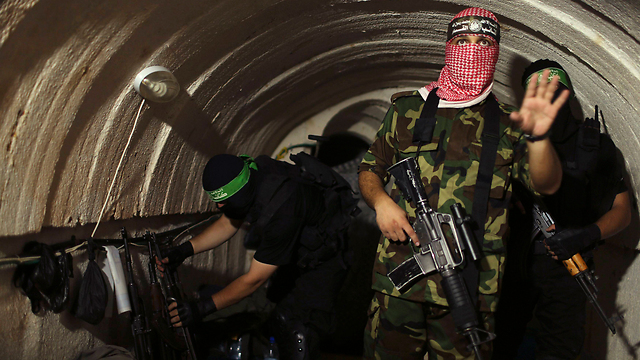 Political source warns radical Islamist group resumes rocket manufacture, smuggling operations despite ceasefire in Strip.
Attila Somfalvi
A senior political source warned on Sunday that Hamas has renewed its rocket manufacturing and smuggling operations and has begun rebuilding the terror tunnels destroyed by the IDF, despite the ceasefire agreed between Israel and the Gaza group less than two weeks ago.
During Operation Protective Edge, the IDF destroyed more than 30 tunnels in the Strip. But just as the two opponents were set to begin indirect negotiations in Cairo to reach a long-term accord, Hamas has decided to challenge Prime Minister Benjamin Netanyahu and test whether he will respond to the group's extensive reinforcement efforts.
Given the lack of an official truce agreement, it remains unclear how Israel will respond to Hamas rearming, resupplying, and – most importantly – rebuilding the tunnels leading into Israeli territory.
On Friday, Yedioth Ahronoth's political analyst Shimon Shiffer said that the Military Intelligence Director is expected to present in the coming days a comprehensive report to the political establishment regarding Hamas' rehabilitation efforts.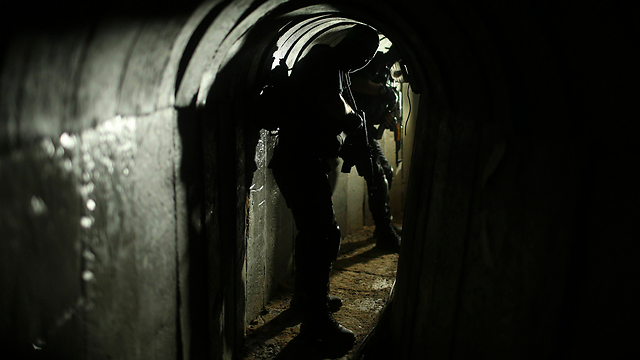 Hamas fighters inside a terror tunnel (Photo: Reuters)
Meanwhile, Foreign Minister Avigdor Lieberman told the press pool on Sunday that he does not believe it is possible to demilitarize Gaza. Lieberman compared Hamas to the Islamic State, claiming that the Gaza group was no less dangerous than its counterpart in Syria and Iraq.