The jihad rolls on.
After Syria and Iraq, Islamic State makes inroads in South Asia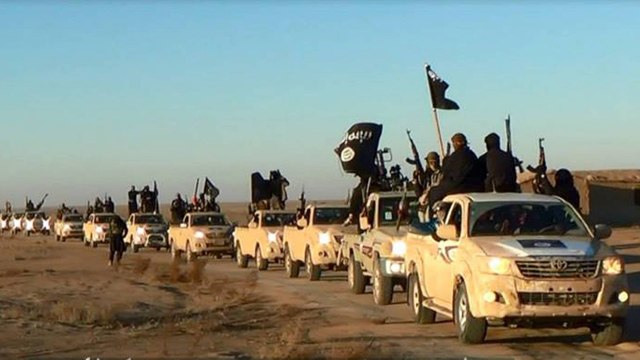 ISIS supporters in Syria (Photo: AP)
ISIS works to recruit young people in nuclear states India and Pakistan, long disappointed by al-Qaeda's ageing leaders.
Reuters Published: 09.07.14, 09:16 / Israel News
PESHAWAR/DERA ISMAIL KHAN – Islamic State pamphlets and flags have appeared in parts of Pakistan and India, alongside signs that the ultra-radical group is inspiring militants even in the strongholds of the Taliban and al-Qaeda.
A splinter group of Pakistan's Taliban insurgents, Jamat-ul Ahrar, has already declared its support for the well-funded and ruthless Islamic State fighters, who have captured large swathes of territory in Iraq and Syria in a drive to set up a self-declared caliphate.
"IS (Islamic State) is an Islamic Jihadi organization working for the implementation of the Islamic system and creation of the Caliphate," Jamat-ul Ahrar's leader and a prominent Taliban figure, Ehsanullah Ehsan, told Reuters by telephone. "We respect them. If they ask us for help, we will look into it and decide."
Islamist militants of various hues already hold sway across restive and impoverished areas of South Asia, but Islamic State, with its rapid capture of territory, beheadings and mass executions, is starting to draw a measure of support among younger fighters in the region.
Al-Qaeda's ageing leaders, mostly holed up in the lawless region along the Pakistan-Afghanistan border, are increasingly seen as stale, tired and ineffectual on hardcore jihadi social media forums and Twitter accounts that incubate potential militant recruits.
Security experts say Islamic State's increasing lure may have prompted al-Qaeda leader Ayman al-Zawahri to announce the establishment of an Indian franchise to raise the flag of jihad across South Asia, home to more than 400 million Muslims.
Pamphlets, car stickers
Seeking to boost its influence in the Afghanistan-Pakistan region, a local cell with allegiance to Islamic State has been distributing pamphlets in the Pakistani city of Peshawar and eastern Afghanistan in the past few weeks, residents said.
The 12-page booklet called "Fatah" (Victory), published in the Pashto and Dari languages of Afghanistan, was being mainly distributed in Afghan refugee camps on the outskirts of Peshawar.