Islamic anti-Semitism 101.
Interestingly enough, the former sec-gen of the Organization of the Islamic Cooperation (while in acting in an official capacity for the OIC) wouldn't deem this an an act of anti-Semitism.
NOTE: This is the traditional view of Jews by Muslims due to the promotion and institutionalization of classic forms of anti-Semitism in Islamic texts.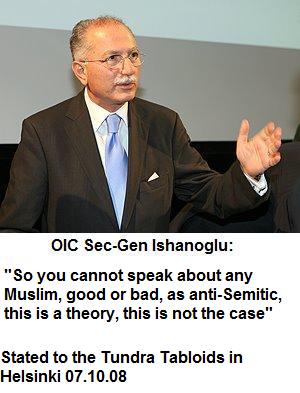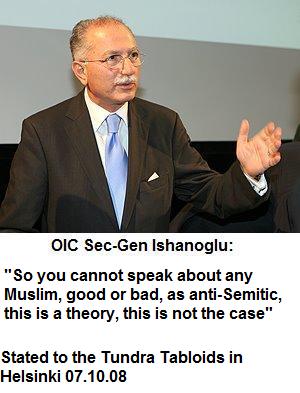 Istanbul Store Bans Entry to 'Jew Dogs'
A shop in downtown Istanbul, Turkey, posted a sign on its window front announcing that "Jew dogs" are banned from entering, local Jewish newspaper Salom reported.
The discriminatory banner, which was spotted on Thursday, says, "The Jew dogs cannot come in here" and features an image of an Israeli tank.
The store, located in Tahtakale, an area where many Jewish businesses are situated, sells mobile phone accessories.
Earlier in 2014 Turkey's Parliament accepted revisions to a penal code that defines hate crimes in Turkish law for the first time and lists penalties against discrimination, according to the local newspaper Today's Zaman.
According to the amended article, "A person who bars the selling, turning over or rental of movable goods or real property to a person; who prevents a person from using certain services offered to the public; who bars employment; and who prevents a person from running a regular economic activity because of hatred stemming from a difference in language, race, nationality, color, gender, disability, political views, philosophical belief, religion or sect will be sentenced to prison for a period of one to three years."