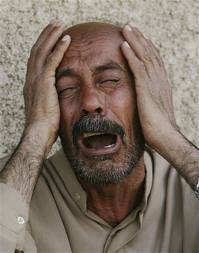 Six alleged militants killed in Egypt's Rafah 
Raid by security forces in North Sinai leaves six alleged militants dead and ten arrested, according to sources
MENA, Monday 1 Sep 2014
Six militants were killed and ten arrested in North Sinai late Sunday, state news agency MENA reported.
Security sources said the raid targeted areas of South Rafah.
Egyptian security forces have stepped up their attacks against militants, especially in the Sinai Peninsula, after attacks targeting police and soldiers escalated following the ouster of Islamist president Mohamed Morsi in July 2013.
Over 500 security forces have been reported killed since last year.
Al-Shabab militants attack Somali intelligence headquarters
Militant group al-Shabab has bombed Somalia's intelligence headquarters in the capital, Mogadishu. The rebels were trying to reach a high-security prison within the facility.
The militants carried out a bomb and gun attack against the facility in central Mogadishu on Sunday. The complex is a key interrogation center for Somalia's intelligence agency, and contains a high security prison. Many suspected militants are believed to be held there, along with political prisoners.
The attack took place at about midday, when a car bomb exploded outside the Godka Jilacow facility. At least three further explosions and a gun battle took place afterwards.
Al-Shabab has confirmed its militants were behind the assault.
"The target of the attack was to release scores of innocent Muslims, including members of our group, who are under investigation and tortured by Somali national security members," said senior al-Shabab member Abu Abdalla.
The death toll is unclear, but could be up to 15, which includes a number of the militants as well as the security officials fighting them.
Security official Mohamed Hassan told the dpa news agency that the situation had been brought under control.
13 killed, 45 wounded in clashes in Libya's Benghazi – medics
BENGHAZI Libya Mon Sep 1, 2014 8:18pm IST
(Reuters) – At least 13 people have been killed and 45 wounded in clashes between Islamists and forces of a renegade general allied to the regular army in Libya's eastern Benghazi city, medics said on Monday.
Islamist forces including members of Ansar al-Sharia launched on Monday a new attempt to take the city's civilian and military airport held by forces of renegade general Khalifa Haftar and army special forces.
Several Yemeni soldiers killed in al Qaeda attacks in south Yemen
ADEN Yemen Mon Sep 1, 2014 12:40am IST
(Reuters) – Suspected al Qaeda militants carried out two separate suicide car bombings against military locations in the south Yemen province of Shabwa on Sunday, killing several Yemeni soldiers, local officials and medical sources said.
Ansar al-Sharia, al Qaeda's local affiliate in Yemen, said on its Twitter account it had launched a "widespread campaign in Shabwa province on Sunday at noon that targeted a number of military and security locations for the Sanaa regime".
The same Twitter account has posted news from the group in the past.
Over 300 killed in clashes between Rezeigat and Ma'alia in East Darfur: UN
August 31, 2014 (ED-DAEIN) – The United Nations has said that more than 300 people were killed and hundreds others injured in recent fighting between Rizeigat and Ma'alia tribes in East Darfur state.
Maalia and Rezeigat delegations arrive at Al-Tawisha in North Darfur before the signing of a cessation of hostilities deal on 22 August 2013 (Photo: Hamid Abdulsalam/UNAMID)
The UN Office for the Coordination of Humanitarian Affairs (OCHA) said in its weekly bulletin received bySudan Tribune that 200 Ma'alya and 123 Rizeigat tribesmen were killed in clashes which took place in the Umm Rakubah area in East Darfur' Abu Karinka locality.
OCHA reported that a further 70 Rizeigat and an unknown number of Ma'alia have been injured, noting that Um Rakubah "has been mostly destroyed and women and children have fled to Adila".
On 16th August, fighting erupted between the Rizeigat and Maalia tribes in East Darfur after the theft of livestock belonging to Ma'alia in Abu Rakubah area.
The Rizeigat attacked the area of Um-Rakoba inhabited by Maalia several times this month. The genesis of the recent outbreak of conflict between the two tribes was a dispute over land ownership claimed by both tribes.
3 Killed as Protesters Clash With Pakistan Police
The overnight violence has raised the stakes in the two-week sit-in led by opposition politician Imran Khan and fiery cleric Tahir-ul-Qadri
ISLAMABAD (AP) — Thousands of anti-government protesters tried to raid the official residence of Pakistan's prime minister, sparking clashes with police that killed three people and wounded nearly 400 amid cries for the premier to step down, officials said Sunday.
The overnight violence has raised the stakes in the two-week sit-in led by opposition politician Imran Khan and fiery cleric Tahir-ul-Qadri, which earlier saw demonstrators march past roadblocks to set up camp outside of Pakistan's parliament. They demand Prime Minister Nawaz Sharif step down over their allegations of massive voting fraud in the election that brought him into office last year in the country's first democratic transfer of power.