How dare those Jews plan for normal growth in their cities.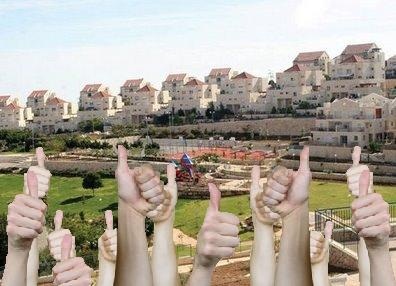 Horrors: Bibi Might Consider New Housing for Jews Before UNGA Meets!
Jews attacking Netanyahu for being so "moronic" as to consider allowing still more Jews to live and breathe beyond an attempted Apartheid Green Line is a legitimate cause for despair.
Published: September 1st, 2014

Word has it that land that has not been occupied since Jordan fled the Gush Etzion bloc after it was humiliated in a war nearly 50 years ago (and before leaving was present with no legally recognized rights thereto), may eventually become the site of new housing for Jews.
The area under consideration neighbors the Israeli town of Allon Shevut, and is adjacent to a women's seminary, Migdal Oz. It is also in close proximity to several Jewish learning institutions such as a women's seminary, Migdal Oz, the Yeud Mechina and and several yeshivot, as well as is located  across the road from the large Israeli community of Efrat. It is in Gush Etzion.
The site is very near to where the three Israeli teenagers, Gilad Shaar, Naftali Frenkel and Eyal Yifrach, were kidnapped by Hamas terrorists, and then murdered by them, south of Hebron.
Previously the site was known as Givat Oz (Hill of Strength). The new name incorporates the initials of the three boys – Gilad, Eyal and Naftali – and the acronym created also happens to mean great wisdom. The site is now known as Givat Oz v'Gaon.
In part, a strong local push for the development of housing in this location came as a response to the abduction and murder of the three teens on June 12. As a local community leader, Davidi Perl said, "The goal of the murderers of the three youths was to sow fear and disrupt our living routine and our answer is strengthening settlement and building.''