H/T: Snaphanen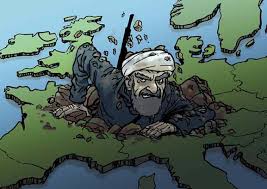 Jihad Comes To Europe
European leaders have directed their nastiest comments against the Jewish state, none of them has asked why Palestinian organizations in Gaza put their stockpiles of weapons in hospitals, homes, schools and mosques, or their command and control centers at the bottom of large apartment buildings or underneath hospitals. None of them has even said that Hamas is a terrorist organization despite its genocidal charter.

The majority of them are wedded to the idea of redistribution. Their policies are anti-growth, do not afford people any economic opportunity, and are what caused these economic crises in Europe in the first place. The United States seems to be following these thoroughly failed policies as well.

"Europe could not stay the same with a different population in it." — Christopher Caldwell, Reflections on the Revolution in Europe.
A few months before murdering four people at a Jewish Museum in Brussels on May 24th, a French Muslim named Medhi Nemmouche had been released from prison and had already joined the Islamic State (at the time, called ISIS).
Nemmouche had left the Museum unmolested and was identified only by images from surveillance cameras. He was arrested two days later in Marseille during an anti-drug check, where it was discovered that he was about to take a boat to Algeria. He had with him his weapons and a black flag of the Islamic State.
The French police knew exactly who he was. Despite everything, he had not been placed under close surveillance.
Nemmouche will be tried in Belgium, where he faces a sentence of life imprisonment — but life imprisonment in Belgium and France means a maximum of twenty-two years. He will not spend twenty-two years in prison. He will likely earn an early release for good behavior. Almost all prisoners in Belgium and France are released for good behavior. That he is a repeat offender and has been convicted seven times for robbery and assault will not be held against him: in Belgium or France, recidivism is theoretically considered an aggravating circumstance but is almost never taken into account in the judgments issued by courts.