Let the Turks have all the Muslim refugees, Christians and other non-Muslim victims should be welcomed to the West.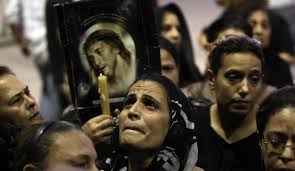 Refugees pour into Turkey amid Middle East chaos
With civil war raging in Syria and IS-terrorists rampaging through Iraq, Turkey is struggling with a flood of refugees. Many have been integrated, but Turkish resentment is growing and many challenges remain.
Yousef arrived in Istanbul with his two friends a few weeks ago. His left eye was injured by a grenade fragment in the Syrian civil war. For eight months the three lived in a Syrian refugee camp in the eastern Turkish city of Urfa. They then moved on further west. "Who knows how long this war will last? We cannot live in camps for the next 10 years," the 20-year-old told DW.
Here in Istanbul the three men now sit on the street—without work and without food—but they are hopping for prompt medical attention for Yousef's eye. But because they are new in the city, they don't know where to find it. For the time being, the three have no other choice but to beg. "It is very difficult to find a job in Istanbul. Additionally you earn very little money," Yousef said.
More here. H/T: Fjordman