He hates the military and law enforcement.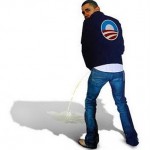 6 FUNERALS OBAMA CARED LESS ABOUT THAN MICHAEL BROWN
On Monday, the funeral of 18-year-old Michael Brown, who was shot under disputed circumstances by Officer Darren Wilson, took place. Slated attendees included Snoop Dogg, Governor Jay Nixon (D-MO), Senator Claire McCaskill (D-MO), P. Diddy, Spike Lee, Jesse Jackson, and giving the eulogy, Al Sharpton.
The White House has also sent three aides to the funeral: Broderick Johnson of My Brother's Keeper Task Force; Marlon Marshall, deputy director of the White House Office of Public Engagement; and Heather Foster, adviser for the Office of Public Engagement.
Which begs the question: why would the Obama administration send not one but three attendees to the funeral of a strong-arm robbery suspect who allegedly punched a police officer in the face – but ignore the funerals of other, more worthy characters?
Here are six people whose funerals the Obama administration took less seriously than Brown's.
Margaret Thatcher. No senior White House officials were sent to the funeral of our staunchest Cold War ally, former Prime Minister Margaret Thatcher. Instead, President Obama sent the charge d'affaires at the US embassy in London, and the former ambassador to Britain, as well as former Secretaries of State George Shultz and James Baker. That drew the ire of the British press, with the UK Sun reporting, "A No 10 source said last night: 'We are a little surprised by the White House's reaction as we were expecting a high-profile attendance." The Guardian said that the White House sent "distinctly low-key official representation."
Chris Kyle. When the famed sniper was murdered at a Texas shooting range in February 2013, not only did the White House make no statement, the White House sent nobody to his funeral. And while the White House did issue a statement about the death of singer Whitney Housing (she died that same month), the White House never even mentioned Kyle.
Nicholas Oresko, The Medal of Honor recipient for heroism during World War II died at age 96 last year. President Harry Truman gave him the Medal of Honor after he wiped out two enemy bunkers during the Battle of the Bulge despite being gravely wounded. There was no reported White House attendance at his funeral.