Hopefully they get Hamas kingpins Ismael Haniyeh and Khaled Meshaal, and all of the clan and tribal chieftains that Hamas pays homage to for its legitimacy.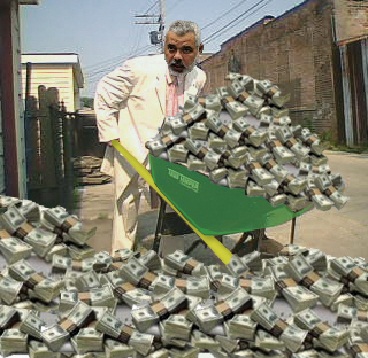 Israel Says Missile Strike Killed Hamas Official Handling 'Terror Funds'
GAZA CITY — An Israeli missile strike that killed a man riding in a car in Gaza City on Sunday afternoon ripped open the vehicle, revealing bags of American dollars inside and scattering currency on the street, some burned by the blast, according to a witness.
The Gaza authorities did not immediately identify the victim, but the Israeli military identified him as Muhammad al-Ghoul and said he had been responsible for Hamas's financial transactions and handled its "terror funds."
The witness, who arrived at the scene minutes after the airstrike, said security men in plain clothes prevented photographers from taking photographs there, kept onlookers away, collected the money and searched what remained of the car for more cash. The witness spoke on the condition of anonymity for fear of retribution.
The missile attack was the latest in a string of recent Israeli airstrikes based on what appears to be precise intelligence about the movements of some Hamas operatives who have emerged from their bunkers as the more intensive fighting has subsided. Last week airstrikes killed three senior Hamas commanders in Rafah in the southern Gaza Strip, and Israel tried to assassinate the chief of Hamas's military wing, Mohammed Deif, whose fate remains unknown.