The Islamonazis were just following the Chi-Coms own playbook, mass murder for ideological gains.
China executes eight for terrorist activities including Tiananmen attack
Government continues crackdown over violent incidents blamed on Uighur separatists from Xinjiang region
Agence France-Presse in Beijing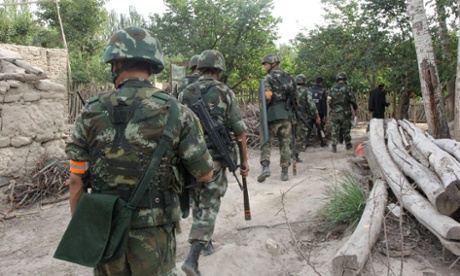 China has executed eight people for "terrorist attacks", including three people it described as masterminding a suicide car crash in Beijing's Tiananmen Square in 2013, state media has announced.
The official Xinhua news agency said the eight were involved in several cases connected to the north-western region of Xinjiang, where Beijing says separatist militants are behind a string of attacks that have rocked China in recent months.
Three of the condemned, named by Xinhua as Huseyin Guxur, Yusup Wherniyas and Yusup Ehmet, were "deprived of political rights to life" for their role in the assault in Tiananmen Square in October.
Two tourists were killed in the attack in which a car rammed into bystanders on the square in central Beijing and burst into flames.
Three attackers also died in the incident, which Beijing blamed on Xinjiang separatists.