Pure stupidity wrapped in naive tomfoolery.
What he should be directing these cut-throat jihadis to, is a small cell with the key thrown away for the next 25 years.
H/T: Simon Elo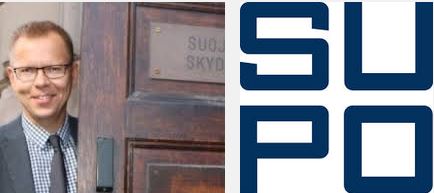 SUPO intends to talk to fighters who left Finland for Syria
Finland has drawn up detailed plans in case, the over 40 people who left Finland for Syria, return.
ISIS is a Syrian and Iraqi jihadist movement and a non-recognized state. 

ZUMAWIRE.COM / Profimedia
– Our goal is to talk to them. SUPO wants more reasons to meet with these people, even though there is no evidence of crimes,  says the Security Police (SUPO) Communications Chief  Jyri Rantala.
The Ministry of Interior has just implemented a series of measures aimed at the prevention of violent radicalism. The authorities have focused more specifically on the situation in Syria and on encountering those returning from there.
– Co-operation between different authorities is important. Discussions are not just a police matter, but, for example, social welfare and medical staff who may be suitable for the task. If a person is traumatized and radicalized, then he must seek help, in order to obtain control and adapt that person back into society.
From different backgrounds
SUPO continuously monitors those who have left Finland for Syria. A big problem, however, is that it is difficult to know precisely the situations in Syria . Flooded with conflicting information and a lack of independent sources of information.
According to SUPO, it estimates that more than 40 people have travelled from Finland to the crisis area after the Spring of 2013.
– Well over half of them are gone in there with the aim to participate in armed conflict. They are mainly related to radicalized organizations, the majority are in the ISIS organization. Some have travelled to do humanitarian work and some left without a direct mission. They are then entered into armed activities, Rantala says.
Some who have left Finland for Syria have returned, but then have already left back for Syria. Some people have lost their lives in battle.
Never before in Finland has there been such a large group having taken part in armed activities.
– A special feature is the fact that people from 16 different ethnic backgrounds have left Finland. This is an unprecedented phenomenon. The situation in Syria and ISIS has in spite of everything united people from ethnic backgrounds.
Among those who have left are ethnic Finns. Of the 40 having left three-quarters of them are Finnish citizens, the rest are residents of Finland.
According to SUPO more than 40 people have left from Finland  for Syrian battles. 

ZUMAWIRE.COM / Profimedia
Beliefs are the reason 
SUPO often gets information on the travellors  to Syria afterwards. Although the data was given in advance, the authorities do not have the means to prevent anyone from leaving.
– Often, the decision for leaving is so strong that not even the peas of the authorities nor even of the families is any help. Under the law we do not have the possibility to prevent their departure, says Rantala.
Most of those wanting to leave for Syria do so out of religious beliefs and conscience.
– Some want to join the jihad, the majority purely for a desire for adventure, others for a desire to help. The reasons vary.
Currently a video is spreading over the Internet of one Finnish man who justifies his departure for Syria. The man has left his family in Finland and went to Syria to be on the side of the Muslims. He has issued a number of concerns about the deaths of Muslims.
Previously, newspapers reported about a man from Espoo, who left over a year ago to Syria and joined the ISIS organization.