Behind closed doors this pig dressed in an Italian diner tablecloth is cheering them all on.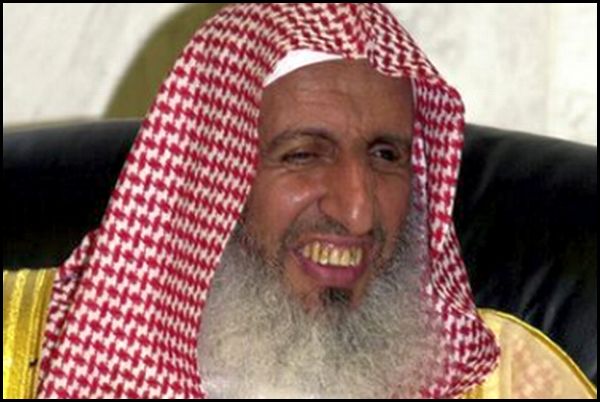 Quite the contrary, everything that the two mentioned, and very Islamic, jihadi terror groups are doing, is modelled upon the "perfect character" of their prophet mohamed. What mohamed did in the 7th century, is being played out before our very own eyes, the latest being the beheading with a very short blade (to make it really hurt) of U.S. journalist James Wright Foley.
NOTE: This is the same Sowdy mufti who declared a fatwa for all churches in the region to be destroyed. This is exactly what these jihadis are doing.
Saudi top cleric blasts Qaeda, IS as 'enemy No 1' of Islam
Riyadh (AFP) – Saudi Grand Mufti Sheikh Abdul Aziz al-Sheikh on Tuesday blasted Al-Qaeda and Islamic State jihadists as "enemy number one" of Islam, in a statement issued in Riyadh.
"The ideas of extremism, radicalism and terrorism… have nothing to do with Islam and (their proponents) are the enemy number one of Islam," the kingdom's top cleric said.
He cited jihadists from the Islamic State, which has declared a "caliphate" straddling large parts of Iraq and Syria, and the global Al-Qaeda terror network.