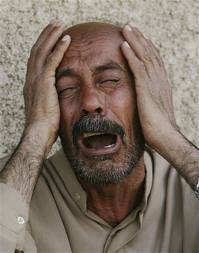 Policeman killed in attack at checkpoint in northern Egypt: state media
CAIRO (Reuters) – One Egyptian policeman was killed and another wounded in an armed attack at a checkpoint in the northern province of Gharbiya on Monday, state news agency MENA said.
Authorities closed of the area and started searching for the perpetrators, an Interior Ministry source told MENA.
More at al-reuters
Air raids kill 31 jihadists in Syria
Updated: 5:26 am, Monday, 18 August 2014
At least 31 Islamic State militants have been killed in air force raids in northern Syria.
The Syrian Observatory for Human Rights says the regime carried out 13 raids on the city of Raqa and 11 on the town of Tabqa in Raqa province, killing at least 31 jihadists and wounding dozens of them.
The Britain-based group's head, Rami Abdel Rahman, said the raids were the regime's most intensive against the Islamic State since the jihadists joined the more than three-year-old conflict in Syria in spring 2003.
Six allegedly al-Qaeda militants killed and five others arrested in clashes with Yemeni troops
Sunday 17 August 2014 11:30 BST
Six suspected al-Qaeda militants and three Yemeni troops died in clashes Sunday in the southeastern province of Hadramawt, a local official said.
Five other militants were arrested as army troops raided a house in al-Qatn city where a "terrorist cell" was holing up, the ministry's website quoted an unnamed military source as saying.
Five soldiers were injured in the clashes, the source added.
"At dawn, armed forces bombarded a house where Qaeda fighters had barricaded themselves in, killing three of them and wounding others," the official told AFP on condition of anonymity.
The body of a fourth militant was later found in a house in the Hadramawt town of Qatan, along with four people who were arrested, a military source said.