There is no way there will be any oversight of money and goods going into the Islamonazi regime of the Hamas-holes.(*)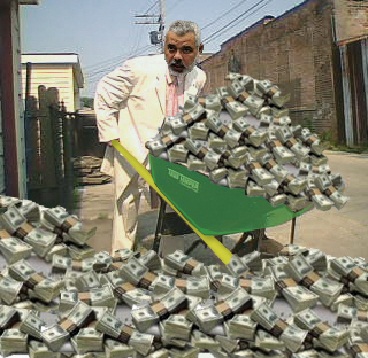 Norway and Egypt Gathering Funds to Rebuild Gaza
Norway to gather international donors in Cairo, transfer funds to Abbas in order to rebuild after Hamas's terror war.
First Publish: 8/18/2014, 9:35 AM / Last Update: 8/18/2014, 10:06 AM
Norweigan FM Borger Brende and Binyamin Netanyahu
Flash 90
Norway announced on Monday that a group of international donors are to meet in Cairo to pledge funds for rebuilding the Hamas stronghold of Gaza, as soon as a truce deal is reached.
The funds are to be raised under the proxy of Egypt and Norway, and will be transferred to Palestinian Authority (PA) Chairman Mahmoud Abbas,Norweigan Foreign Minister Borge Brende declared Monday according to AFP.
"We cannot expect the international community to finance reconstruction once again" without prior conditions, Brende said, noting the three counter-terror operations since 2008 caused by Hamas terror wars against Israel.
However, Brende's conditions consisted of pressing Israel to remove its blockade on the Hamas terror enclave, saying "keeping people hemmed in and on the brink of famine will not guarantee the security of Gaza's neighbors."
Norway has already been taking the lead in pushing for the demands of the Hamas terrorist organization, announcing recently that it and Turkey would be willing to operate a seaport in Gaza. Turkey reportedly surpassed Iran in 2012 as Hamas's lead financial sponsor.
Hamas's demand for a seaport, as well as for an airport in Gaza, have been reportedly postponed for discussion a month after a truce deal is reached in Cairo.
Hamas has already made clear that such a truce deal would only be meant to plan for the next terror war on Israel, preparations that would be aided by international funds and construction materials which could be used to build more terror tunnels.
(*) Coined by Mark Levin