Really heartbreaking what these people are going through.
"We didn't know what hit us," said a man who joined the conversation. "We were asleep one minute, and running for our lives the next."

Some Yazidi men say they had phoned their daughter or wife's phone number only to be told tersely by strange male voices not to call again.

"It's more than our heritage," said Wadhah Jowla, another father squatting helplessly in the soil. "It's our heart and soul. My daughter means more than anything to me. She is not in Bardoush prison, but we are sure she is in Tel Afar [a nearby town]."
Yazidis tormented by fears for women and girls kidnapped by Isis jihadis
Despair for one Yazidi father as he is told that his daughter will be sold as a slave by Islamists who rampaged through Sinjar• Who are the Yazidis?
Martin Chulov
 in Dohuk, Iraqi Kurdistan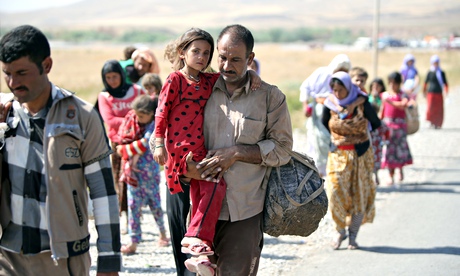 A Yazidi Iraqi refugee carries his daughter over the Syrian border. Up to 20,000 people may still be trapped on Mount Sinjar. Photograph: Ahmad al-Rubaye/AFP/Getty
For the past week, Khandhar Kaliph's hands have trembled whenever his phone has rung.
He nervously greeted his daughter, who had been kidnapped when the Islamic State (Isis) overran the Yazidi city of Sinjar. There was a minute of silence, before he broke down sobbing.
"She said she is going to be sold as a slave this afternoon, for $10," Kaliph said, his tears dropping into the brown dust. "What can a father say to that. How can I help? We all feel so useless."
Kaliph's daughter, who he did not want to name, had access to a group phone passed around between other girls imprisoned by the Islamic State in Bardoush prison in central Mosul.
All face the imminent prospect of being married off. Or worse, being used by the jihadis as a sex slave.
"The world needs to know that is where our women are, where they are being enslaved, young and old alike," he said, sitting in the dirt outside a building site near the Iraqi Kurdish city of Dohuk that he and some 70 other Yazidis are now using as shelter.
Dohuk and the strip of land to the Fishkhabour crossing into Syria are now teeming with Yazidis, who have escaped in the past 48 hours from Mount Sinjar in northern Iraq, where they had been besieged by Isis. Nearly all the Yazidis the Guardian met offered stories of women and girls being kidnapped, or of men being killed in the brutal rampage that has shattered centuries of coexistence in Iraq's north-west.
More here. H/T: Buck