Islamic anti-Semitism.
But the former OIC seg-gen (who just lost in an election against Erdogan) would beg to differ, according to him there's no such thing as Muslims being anti-Semitic, even if they are bashing in a Jew's head while quoting the koran I suppose: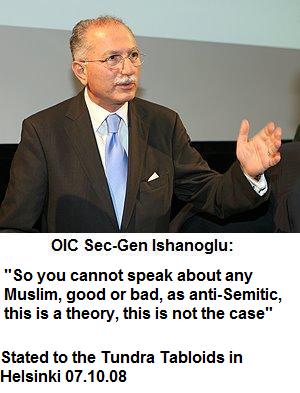 There was a time when Jews in Turkey could breathe rather freely, but since the resurgence of Islam in the public square, they are once again feeling the pinch.
NOTE: I am reminded of the puff piece by the Finnish newspaper Helsingin Sanomat on Jews in Iran, who face a similar situation as the Jews in Turkey, but worse, they have the discriminatory "cleanliness" (najis) edicts to contend with.
Also: As an added supplment to the post: Understanding Islamic Antisemitism in Turkey, From the Ottomans to Erdogan, a must read of Andy Bostom's trilogy of the subject.:
//bit.ly/VifX5W; //bit.ly/1Aaugt9; //bit.ly/1poWCwh
Turkish Jews Concerned About the Election of Erdogan, Warn Israelis: "Do Not Come"
They are almost not willing to talk and are very afraid of the reelection of Erdogan. The Jewish community in Turkey warned the Israelis and believe: The relations between us could make things worse. A Jewish factory owner in Turkey: "We do not voice our opinions."
Aug 10, 2014, 12:45PM | Jerusalemonline Staff
Protest in Turkey Channel 2 News/Reuters
They change their names, do not reveal their identity, and keep their opinions to themselves.  Jews in Turkey can only dream of a scenario where Primi Minister maintain their own opinions. Jews living in Turkey can only dream of a situation in which Prime Minister Recep Tayyip Erdogan is not reelected.  As citizens go to the polls, the Jews understand that they will be forced to live in fear.
"Natalie" is a Jew who lives in Istanbul and asked to remain anonymous. "Day by day it's only getting worse – in the press, in the streets and just in general, I'm not saying I'm Jewish, and if I am asked then I deny.  It is terrifying", she shared. "People have been seriously thinking of moving to Israel, and there are many who have done it."
It is estimated that there are currently more than 20,000 Jews living in Turkey.  When we called one of the synagogues in the country they answered in Turkish saying "We must not talk, it is dangerous, very dangerous.  Thank you very much."  Even a man in the Jewish community who has been interviewed previously did not want to talk.  "The situation is sensitive now and I do not want to take the risk," he explained.