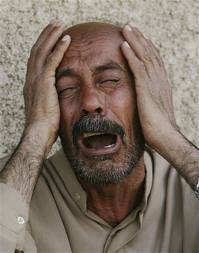 Radical Islamic militias conquer more army bases, tightening grip on Benghazi
CAIRO –  An umbrella group for eastern Libya's extremist militias says it overran three more army bases in the eastern city of Benghazi and seized large amounts of heavy weapons, including armored vehicles, as they tighten their grip on the country's second city.
The Benghazi Revolutionary Shura Council, composed of extremist militias like Ansar al-Shariah, posted pictures Wednesday of its leaders posing in front of tanks, multiple rocket launchers, and artillery they claimed to have seized from the bases they overran.
The pictures could not be independently verified but in the past weeks the militants seized several other bases belonging to the remnants of the Libyan army.

Militants Attack Egypt Checkpoint, Kill 5 Police
Militants attacked a police checkpoint near a Mediterranean resort area frequented by Egyptian holidaymakers, killing five policemen and losing four of their own in the ensuing gunbattle, the Interior Ministry said on Wednesday.
In a statement on its Facebook page, the ministry said the attack took place in the Dhabaa area in the coastal province of Matrouh late Tuesday. Security forces deployed at a nearby port rushed to the site and pursued the attackers, which it described as "terrorists."
Egyptian daily al-Masry al-Youm said the attackers shot and killed the policemen, then set fire to their vehicle, leaving their bodies badly charred.
The Interior Ministry statement updated initial descriptions of the attack given to The Associated Press and reported late Tuesday by a security official who had said two policemen were killed in a car crash while pursuing militants.
27 troops, 11 jihadists killed in attack on Syria base: NGO
AFP
Beirut, August 08, 2014
First Published: 00:32 IST(8/8/2014)
At least 27 Syrian regime forces have been killed in a jihadist assault on a military base in the northern province of Raqa, a monitoring group said on Thursday.
The Syrian Observatory for Human Rights said 11 jihadists from the Islamic State were also killed in the attack on Brigade 93, including three who blew themselves up at the base.
IS fighters now "control major parts of the base," the Observatory said.
Some troops had already pulled out of Brigade 93 in July after IS captured Division 17, another base in the region where at least 85 people were killed in fighting or summarily executed shortly afterwards, it said.
Yemeni troops kill 7 Qaeda suspects: Military
ADEN: Yemeni forces on Thursday shot dead seven suspected al Qaeda militants in a clash in the southeastern province of Hadramawt, a day after confrontations left 18 militants and 10 soldiers dead, an official said.
The clash erupted when "al Qaeda gunmen" attacked the military headquarters in the city of Sayun, a stronghold of militants, the military official said.
The army had reinforced its positions in Sayun ahead of an anticipated operation against militants in the city.
On Wednesday, two soldiers were killed and two wounded when gunmen attacked forces heading towards Sayun, a military official said. The defence ministry said 18 militants were killed in the confrontation.
Two PTI workers killed in Karachi
KARACHI: At least five people, including a policeman and two activists of Pakistan Tehreek-i-Insaf (PTI), were gunned down in different incidents of violence in the city on Thursday, DawnNews reported.
Gunmen opened fire on Taufiq Ali Hoti, a former president of a district chapter of the PTI, and Arif from the same party near zoo in the Garden neighbourhood, killing them on the spot.
A police official, Sajjad, was killed by firing by assailants in Orangi Town's Kati Pahari area, while dead bodies of two people were found in Model Colony and Steel Town areas of the city.
PTI Chairman Imran Khan condemned the murder of his two party workers.
In a statement issued in Islamabad, he lashed out at Sindh government and the security forces for failing to curb violence in the city.
Iraqi Yazidi lawmaker: 'Hundreds of my people are being slaughtered'
updated 4:22 PM EDT, Wed August 6, 2014
STORY HIGHLIGHTS
Thousands of families from Iraq's Yazidi minority flee as Islamist fighters storm their community
Yazidi lawmaker says 70 children have died of thirst, 500 men have been slaughtered
UNICEF warns that up to 25,000 children are stranded in the mountains without food, water
Amnesty International appeals to Iraqi and Kurdish authorities to protect Yazidis
(CNN) — When radical Islamist fighters stormed the northern Iraqi town of Sinjar over the weekend, the Yazidi minority who call it home fled into the surrounding mountains in fear of their lives.
Now, trapped without food, water or medical care in the summer heat, thousands of families are in desperate need of help.
It's already too late to save dozens of children who've died of thirst.
They are the latest victims of the brutal advance by the Islamic State, formerly the Islamic State in Iraq and Syria, or ISIS, whose Sunni Muslim fighters have been targeting Iraq's Christians and other minority groups, as well as Shiite Muslims.
Lawmaker Vian Dakhil, the only MP representing the Yazidi minority group in Iraq's Parliament, said in an impassioned speech that 70 Yazidi children had died so far, that women were being killed or sold into slavery and that 500 men had been "slaughtered."
NOTE: This plea in the Iraqi parliament by a Yazidi woman is difficult to watch without breaking into tears. This is what real genocide looks like.