What kind of man opens his arms to filth like that? Jimmy Carter.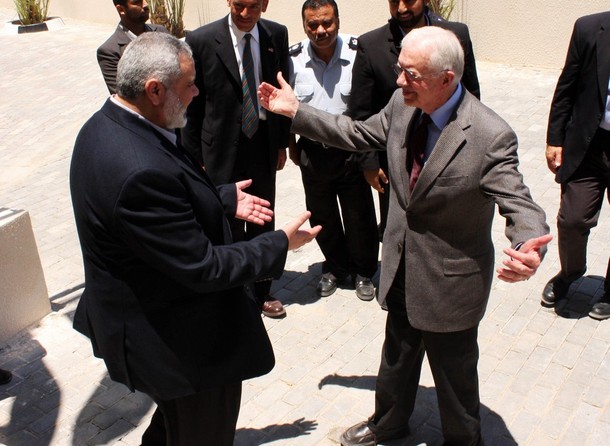 Never mind the fact that everything Carter has said about the Israel Protective Edge campaign to root out Hamas tunnels and rockets, is pure crap.
Hamas owns this whole crisis, lock stock and barrel, any deaths (which they love to champion) is to be placed on their doorstep. This is why they are properly deemed as terrorists, working outside international law they violate every known human value. Israel on the other hand, takes great care in trying to discern (as best as humanely possible) between Hamas and the people they use as sandbags.

The Hamas and such-like ilk are truly evil people. Westerners (like Carter) looking into the situation would be better served to discern between Islamonazi movements and liberal democratic societies.
Jimmy Carter pushes US to recognize Hamas, slams Israel in op-ed
Former President Jimmy Carter once again is getting way out in front of the U.S. government on the Middle East, co-authoring an op-ed in which he calls for Washington to recognize designated terror group Hamas as a legitimate "political actor" — while blasting Israel for its military campaign in the Gaza Strip.
The scathing column on ForeignPolicy.com was written by Carter and Ireland's former president Mary Robinson.
The article called the current conflict a "humanitarian catastrophe," and while acknowledging Hamas' "indiscriminate targeting" of Israelis, focused its criticism on Israel.
"There is no humane or legal justification for the way the Israeli Defense Forces are conducting this war," they wrote. "Israeli bombs, missiles, and artillery have pulverized large parts of Gaza, including thousands of homes, schools, and hospitals."
They said "deliberate attacks on civilians" constitute "war crimes" on both sides, though noting far fewer Israelis have been killed in the fighting.