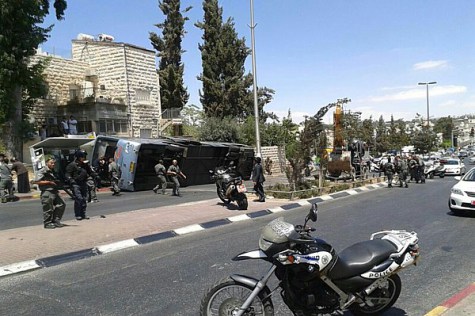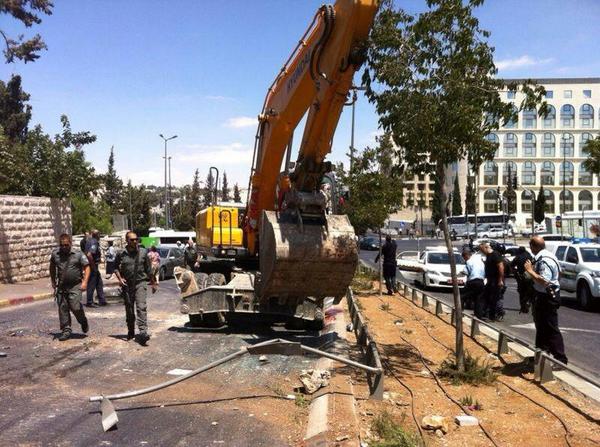 h/t: Dennis Mitzner
Tractor terror attack in Jerusalem — 1 pedestrian killed, 6 injured, terrorist shot dead
US, Qatar renew ceasefire effort, sources say it damages Egypt's initiative; Rocket fire renews during humanitarian window; Islamic Jihad commander killed in airstrike; Israel rebuked after UNRWA school hit; Israel pulls most troops from Gaza
[…]
Jerusalem terrorist named
The terrorist who killed one and injured six others in a Jerusalem terrorist attack earlier today is being identified by Palestinians on social media as Muhammed Naif El-Ja'abis from the East Jerusalem neighborhood of Jabel Mukaber.
Jerusalem terrorist reportedly resident of E. Jerusalem
The terrorist killed in the Jerusalem terror attack an hour ago was a resident of the East Jerusalem neighborhood of Jabel Mukaber, according to unconfirmed reports on Palestinian social media accounts. The man's name is also being publicized, but The Times of Israel will wait until the identity is officially confirmed before identifying the man.
Police are not naming the terrorist, but say he worked at the building site nearby from which the digger was taken. Two policeman and a Prisons Service officer from the Nahshon unit ran to the scene, says Jerusalem police chief Yossi Pariente.
The victim is Jewish, says Pariente.
"We are at the highest level of readiness" due to the fighting in Gaza, says the police chief.