Hard core Leftist (Marxist), hard core porn actor/producer. (seated, left)
Finnish Porno actor/producer (hack politician), Jörn Donner, is a disgusting individual. Personally I can't even watch the screen when his mug comes on, he babbles endlessly on with nothing of particular importance to say, no wonder he's the toast of Helsinki and voted on multiple occasions to parliament.
Timo Soini (PS) on the other hand, is well spoken, to the point, who on many occasions, has come out articulately, strongly in support of Israel. The Left just foams at the mouth at him.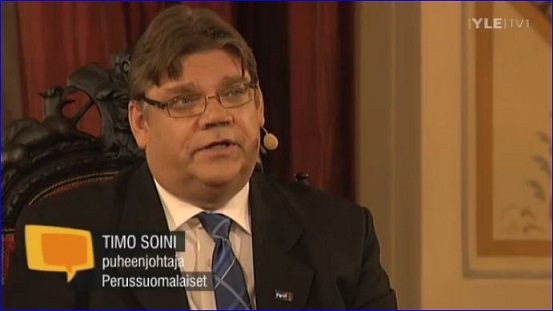 Donner criticizes Soini's Israel comments: "I know something about that"
Jörn Donner (r) harshly criticizes Timo Soini (ps) comments on the Israeli-Gaza conflict.
Donner writes in Monday's Helsingin Sanomat newspaper opinion piece that Soini's Israel- position, is not a position of the Foreign Affairs Committee. Soini is the chairman of the committee.
– One thing is for sure: chairman Soini's positive Israel interpretation is unlikely to achieve everyone's approval, Donner writes.
Soini said Saturday in an interview published in Helsingin Sanomat that he defended the Israeli attacks on Gaza.
– I agree with the actions of Israel – to a certain extent. Keep in mind that Israel can not lose the war only once. If it loses, then the country no longer exists, Soini said HS for.
"All do not agree"
Donner says the evening Sanomat that he wanted to point out that not all of the committee members, himself included, agree with Soini.
– When someone is chairman of the committee, in this case, Timo Soini, pronounces something, it feels in some way it is this committee's opinions. It is difficult to distinguish, Donner says.
Donner himself condemns Israel's actions in Gaza and the killings are considered a Human Rights criminal offense. He says he was a year ago in Gaza, which he says is already for years been the "world's largest open-air prison".
NOTE: That he would call Israel's actions of self defence "war crimes' and Gaza an "open prison", shows the mindset of this moron.