Well not quite everybody: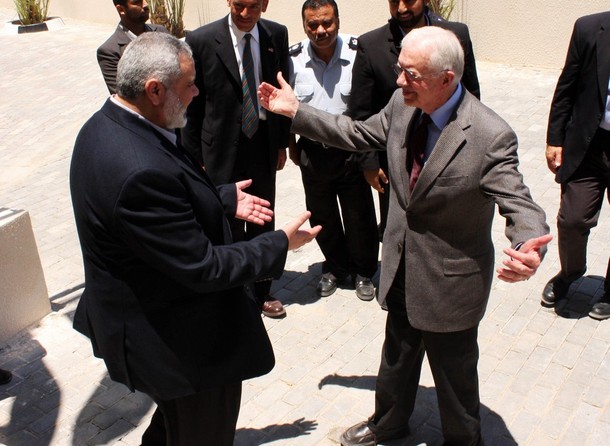 In short, every Arab League Leader left now realizes that the Muslim Brotherhood they supported to kill the Jews wants to kill THEM too because the nation-states of the Arab League are the antithesis of their goal of an Islamic Empire ruled by a Caliphate. Every Arab League leader, tryannical as they may be, now knows they are in the crosshairs of one or many Muslim Brotherhood organizations.
Everybody is pretty much sick of HAMAS
Who would have thought it 6 years ago!  It's one thing for Israel to respond to HAMAS rocket attacks, but doing so with the tacit approval of Saudi Arabia and Egypt is a new twist few are following in the news. As if this is unusual, the incredible outpouring of support for Israel from Americans is overpowering the usual loud noise of the anti-Semitic minority that can always be counted on to kvetch in times like these.
There is a reason for this.  In short, there are few Arab League States that still have cohesive governments.  The remainder are in a state of anarchy, largely due to armed revolt by Muslim Brotherhood groups.  These Muslim Brotherhood groups come in many names and flavors, but they all have a basic goal: An Islamic Empire without borders ruled by a Caliphate.
In 2007, Israel, at the urging of President Bush, left Gaza.  Within months, HAMAS, a Muslim Brotherhood organization, had violently taken over Gaza.  By the end of 2008, Israel was at war with Gaza with the Arab League shrieking and shrying for Israel to stop.  You know!  The Arab League of Kadafi, Mubarak, Bashar Al-Assad, Nouri al-Maliki, King Abdullah etc.
Well don't look now, but most of those leaders are ether gone, going, or hanging on for dear life from insurgencies led by various Muslim Brotherhood organizations.  After overthrowing Hosni Mubarak in Egypt, the Muslim Brotherhood was overthrown by the Egyptian Army because it was ignoring the country's dire financial crisis while focusing on restrictive religious edicts hampering the middle class.  Muslim Brotherhood forces overthrew Moamar Kadafi in Lybia with absolutely no provocation save for some reformers who wanted "Democracy".  Muslim Brotherhood forces (aka ISIS) have fought to a stalemate in Syria in an effort to overthrow Bashar Al-Assad.  And lately, Muslim Brotherhood forces (aka ISIS) have invaded Iraq without provocation to overthrow the tenuous government there.