.
Yes, John Kerry you're to blame.
Instead of sticking by its close ally Israel, "Team Obama" pressures it into stupid, self defeating ceasefires.
#TerrorTunnels: Hamas Detonates Suicide Bomb, Kidnaps IDF Soldier Just 90 Mins Into Ceasefire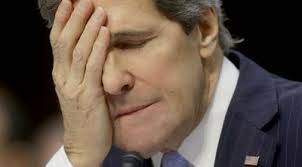 We are conducting extensive searches in S. Gaza in order to find a missing IDF soldier. We suspect the soldier was kidnapped by Hamas today
— IDF (@IDFSpokesperson) August 1, 2014
Just 90 minutes into the "humanitarian" "ceasefire"  Hamas emerged from a terror tunnel, detonated a suicide bomb and took one Jew hostage back through the tunnel.
IDF soldier feared kidnapped
Terrorists emerged from a tunnel shaft, and a suicide bomber detonated near soldiers prior to the suspected kidnapping; the IDF says incident is ongoing and that it is in the midst of efforts to track down missing soldier.
Some of the terror tunnels are almost 2 miles long and cost upwards of $1 Million each to construct. Some of that construction money comes from American tax payers. Some of those tunnels were built with entrances INSIDE United Nations buildings, ostensibly with tacit UN approval.

More here.