Yet more signs of increased incidents of anti-Semitism in Europe.
That Khan has a girlfriend with a 'Muslim background' is cause enough to hire a few bodyguards.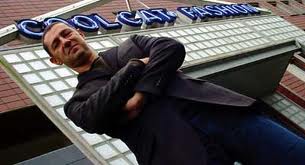 Jewish Businessmen Hire Bodyguards
Fifteen to twenty leading Jewish businessmen have hired personal bodyguards due to threats.  Roland Kahn, the owner of the fashion chain Cool Cat, has told the media about the many threats he has received.
"I am not only called a dirty Jew, and threatened with death, but my shops have also become a target.  My daughter, who lives in the United States, and my girlfriend, who has a Muslim background, are also threatened.  A number of Moroccan employees are threatened, as well, because they work for me.