In tard placating Scandinavia
NOTE: Looking for northbound Muslims from Helsinki no doubt.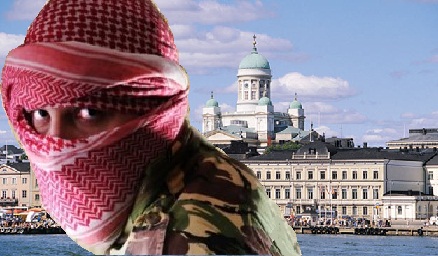 Armed Norwegian police cross into Finland
Norwegian police officers working on the Finnish side of the two countries' border is a rare but completely legitimate occurrence, says a senior police chief in Finnish Lapland. Over the past few days, Norwegian law enforcement officers armed with submachine guns have been the northernmost municipality of Utsjoki, stopping Norwegian-bound cars.
"This follows a serious terrorism threat in Norway," says Seppo Kinnunen, acting chief of the Lapland Police Department. "Norwegian police have asked us for help. They asked if they could come over into Finnish territory with weapons. Police commanders have the mandate to allow that. I'm now in charge when the police chief is away and I approved it, because the customs buildings on the border are located on the Finnish side," Kinnunen explains.
Kinnunen received word of the requests from the National Police Board on Friday, and then contacted his Norwegian counterparts.
Kinnunen notes that the cross-border cooperation is based on agreement signed by Finland and Norway in 2012. It allows authorities to work across the national boundary as needed. Kinnunen points out that Sweden, which also shares long borders with Finland and Norway, has not yet signed the pact. Finland and Sweden are EU members while Norway is not.
Kinnunen says that Norwegian police have also worked at other border crossing points in northern Finland this past weekend.
"As far as I can remember, this is the first time that there's been this kind of situation," says Kinnunen. "Norwegian police don't usually appear armed, and drivers heading to Norway don't usually have their documents checked."
Kinnunen says the situation in Norway now seems to be calming down, and that he expects that his Norwegian colleagues to police will head home soon.
Terror threat downgraded
Norway on Sunday revised downwards the risk of a terrorist attack by militants coming from Syria, three days after stepping up security to face a threat it deemed "credible" and imminent.
"Based upon the work carried out these last days, we can say that the threat of a terrorist attack against Norway has somewhat decreased," Norway's intelligence service (PST) chief Benedicte Björnland said. "But the situation is still serious and hasn't been clarified yet."
On Thursday, PST said it had "recently received information that a group of extremists from Syria may be planning a terrorist attack" in the country.
Norway has increased border controls and armed police presence in stations and airport, recalled officers from leave and closed several public buildings to the public.