Iv'e had his number way before he was even elected to office by a dumb (perhaps well meaning) electorate.
One of the best op-eds on the media's malfeasance (anti-Israel bias) in reporting on the present day Gaza conflict, and the feckless, horrid 'leadership' of Israel's prime ally, the U.S.. 'Team Obama & Kerry' couldn't have handled the crisis any more worse.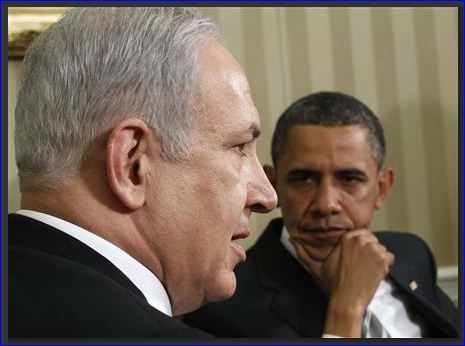 Yet the diplomatic posturing of the Obama administration has been utterly deplorable at a time when we are entitled to rely on the US to fully support its only genuine democratic ally in the region. Israel is confronting a genocidal organization, Hamas, the equivalent of al-Qaida, whose charter explicitly calls for the destruction of the Jewish state, and enjoins its supporters to murder Jews whenever the opportunity arises. This same terrorist organization condemned the United States for the murder of Osama bin Laden.

[…]

The uninvited presence of Kerry – who many Israelis now regard as an unguided missile – and who has been making off-the-cuff sarcastic remarks about Israeli failure to avoid Palestinian casualties, will only encourage Hamas to maintain the missile attacks.
Candidly Speaking: Obama is abandoning Israel
U.S. President Barack Obama speaks about Ukraine at the White House in Washington, July 21, 2014 Photo: REUTERS
In the midst of a bitter war – one that Israel sought to avoid – the statements and initiatives from US President Barack Obama and his inept secretary of state, John Kerry, have convinced Hamas that if they maintain their campaign of terror against Israel and the civilians of Gaza, the international community will intervene on their behalf.
From Israel's vantage point, despite the continuing tragic losses, there can be no turning back until the weapons of destruction and the tunnels are neutralized.
Failure to achieve this will doom us to a future and possibly even more dangerous confrontation with these genocidal barbarians.
Prime Minister Binyamin Netanyahu's leadership has been exemplary. Despite extraordinary pressure from all sides of the political spectrum, he succeeded in charting a responsible policy. The initial restraint, his acceptance of the Egyptian terms of cease-fire and his avoidance of demagoguery, united the nation and even scored points among open-minded circles in the international community.
The most incredible aspect to this conflict was the almost total effectiveness of the Iron Dome, which neutralized missiles directed at our cities, and thus precluded an otherwise much more extensive and costly ground operation.
Yet we suffered a profound shock at the discovery of the extent and sophistication of the underground city Hamas had constructed with prolific tunnels entering into Israel – even into public dining rooms of kibbutzim – creating a scenario for horrifying mass terrorist abductions and massacres of 9/11 proportions.
The Western media's sympathy for Hamas, inciting hatred against Israel by its excessive display of gruesome images of dead children, was completely out of context. That Israel possesses the firepower to level Gaza, if it intended to do so, was ignored. Rarely did it acknowledge that Israel had accepted cease-fires which Hamas had rejected. Or that Israel maintained a flow of humanitarian aid, electricity and water to Gaza and that terrorist casualties were treated in Israeli hospitals. In fact, Israel even established a field hospital for the sole purpose of treating Gazan civilians.
The media behaved unconscionably in failing to highlight the fact that most of the civilian casualties in Gaza were incurred because Hamas had ordered women and children to ignore Israeli early warnings to evacuate, obliging them to act as human shields at rocket launching sites and command posts. Schools, hospitals, mosques, and UNRWA headquarters were used to stockpile armaments and launch missiles. By this behavior, Hamas is responsible for every civilian casualty, and is unquestionably guilty of war crimes.
As Netanyahu stated, "Israel employs missile defense to protect its citizens; Hamas uses its civilians to protect missiles."
Whereas no army in history has ever gone to the extremes of the IDF to minimize civilian casualties, the obscene UN Human Rights Commission, dominated by dictatorships and rogue states, has launched an investigation of what it has already defined as "Israeli war crimes." In what is clearly intended to be a repeat of the notorious Goldstone Commission, there is not even the pretense of objectivity and no call to investigate Hamas.
The US voted against this travesty but the Europeans, to their discredit, abstained. Predictably, this led to a global eruption of massive anti-Semitic demonstrations and violence, condemning Israel for allegedly targeting or being indifferent to the fate of Gazan civilians.
In this context, we appreciate that the American people and Congress have displayed overwhelming support for Israel and remain grateful for the financial support sponsored by Congress that enabled us to create and produce the Iron Dome.