One of them is of course, Norwegian marxist nut-job, Mads Gilbert.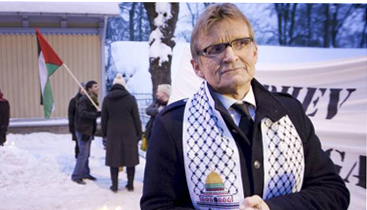 NOTE: TT reader and commenter, Dr.Ami Cammarella has the following to say about these immoral Islamonazi supporters:
I am a physician who knows of course very well this famous medical journal and I say: shame on those doctors who wrote such a disgusting letter spitting on Israel and most of all shame on "the lancet " .
By the way : these doctors with such a great heart , did they ever publish an open letter about the 140000 civilians killed in Syria ? Or the thousands of Christians persecuted , tortured and killed in Irak by the Islamists of ISIL ? The answer is easy to find : in these cases there are no Jews to blame .
We are actually facing a huge rising of antisemitism throughout the western world by people who join the nazislamists .
We have to fight more than ever
Israel offered medical aid to Gazans, but the PA refused to accept it / Dr. Itay Gal
Health Ministry prepared millions of shekels worth of medicine, chemotherapy and medical equipment for Strip; MDA offered blood donations. 
Full story
Doctors condemn Israeli 'crime against humanity'
Twenty-four physicians and scientists publish open letter against IDF's activity in Gaza in leading medical journal The Lancet. Health Ministry demands removal of letter's online version.
Dr. Itay Gal0
7.29.14, 00:53 / Israel
The Lancet, one of the world's leading general medical journals, has published an open letter signed by 24 doctors and scientists, harshly condemning the IDF's activity in the Gaza Strip and calling on the world not to "remain silent while this crime against humanity continues."
Most of the doctors who signed the document are from Italy, five are from Britain and one is from Norway.