It's pure Islam 101 on a stick.
Imagine that this guy was at one time crawling around Europe.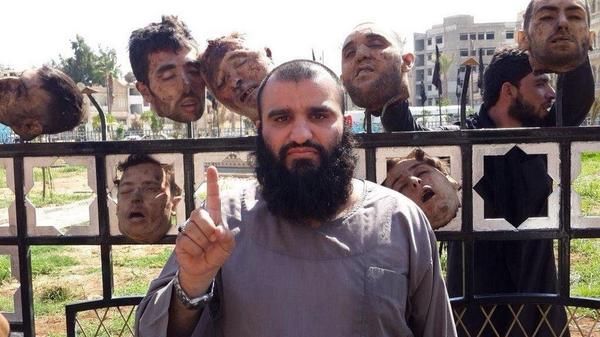 Dutch Jihadist Shows Picture with Severed Heads
The Dutch jihadi, Khalid K., born in Almere, who calls himself Abu Abdulrahman al Iraki, has put a picture of himself with a number of severed heads.  He departed in 2011 for Syria, and was wrongly thought to have been killed there.
Andy Bostom reminds me: 
Heads on sticks: Sick ISIS video emerges showing 50 beheaded Syrian soldiers being impaled on poles and held aloft in Raqqa city
WARNING GRAPHIC CONTENT
Islamic State fighters, formerly called ISIS, have attacked base for two days
Ambush in Raqqa, northern Syria, ended in more than 50 executions
Amateur video footage circulating online shows dozens of headless
From The Legacy of Islamic Antisemitism, p. 46. Note how the innocent Jewish "salters" were made to suffer as well!
Moroccan Jews were confined to ghettos in the major cities such as Fez (since the thirteenth century) called mellahs (salty earth), which derives from the fact it was here that they were forced to salt the decapitated heads of executed rebels for public exposition.114d This brutally imposed humiliating practice—which could be enforced even on the Jewish Sabbath—persisted through the late nineteenth century, as described by Eliezer Bashan:
In the 1870s, Jews were forced to salt the decapitated heads of rebels on the Sabbath. For example,

Berber tribes frequently revolted against Sultan Muhammad XVIII. In order to force them to accept

his authority, he would engage in punitive military campaigns. Among the tribes were the Musa, located south of Marrakesh. In 1872, the Sultan succeeded in quelling their revolt and forty-eight of their captives were condemned to death. In October 1872, on the order of the Sultan, they were dispatched to Rabat for beheading. Their decapitated heads were to be exposed on the gates of the town for three days. Since the heads were to be sent to Fez, Jewish ritual slaughterers (Hebrew, shohetim) were forced to salt them and hang them for exposure on the Sabbath. Despite threats by the governor of Rabat, the Jews refused to do so. He then ordered soldiers to enter the homes of those who refused and drag them outside. After they were flogged, the Jews complied and performed the task and the heads of the rebels were exposed in public.114e